Cheeseburger Skewers
Get ready to flip the script on traditional burgers with these mouthwatering Cheeseburger Skewers! Juicy beef and melty cheese combine for a fun and flavorful twist on a classic favorite.
May 04, 2023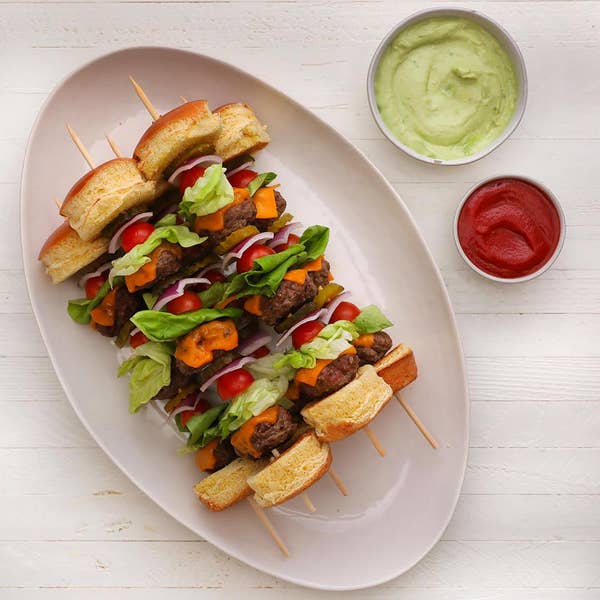 Ingredients
for 6 skewers
Skewers
1 lb Simple Truth™ 90/10 Ground Beef

(455 g)

1 tablespoon Simple Truth™ Organic Vegan Worcestershire Sauce
½ teaspoon Simple Truth™ Organic Salt
1 teaspoon freshly ground Simple Truth™ Organic Black Pepper
1 teaspoon Simple Truth™ Organic Garlic Powder
1 teaspoon shallot, minced
6 slider buns
1 tablespoon Simple Truth™ Organic Olive Oil
5 slices shredded cheddar cheese, quartered
½ head Simple Truth Organic™ Butter Lettuce, cut into 1" squares
9 cherry tomatoes, halved
6 red onions
18 slices dill pickle
Simple Truth™ No Sugar Added Ketchup
Avocado Dip
2 Simple Truth™ Avocados, pitted
¼ cup Simple Truth™ Organic Whole Milk Greek yogurt

(60 g)

2 tablespoons mayonnaise
1 clove garlic
2 tablespoons lime juice
½ teaspoon kosher salt, or to taste
This recipe isn't available to shop.
Unfortunately, not all our recipes can be shopped through Tasty.
Preparation
In a large bowl, mix the Simple Truth™ ⁹⁰⁄₁₀ Ground Beef with the Worcestershire sauce, salt, pepper, garlic powder, and shallot until just combined.
Divide the beef mixture into 18 balls (about 1–1½ tablespoons each) and flatten into ½"-thick patties.
Using a 2–2½" ring cookie cutter, cut each side of the slider buns into small rounds.
Heat a large frying pan over medium-high heat. Toast the buns, cut sides down, for 20 seconds, or until golden brown. Set aside.
Heat the olive oil in the same skillet. Working in batches, add the beef patties and cook for 90 seconds. Flip and reduce the heat to medium. Place a quarter slice of cheddar on top of each patty and cook for 90 seconds more, or until the cheese is melted and the patties are cooked through. Remove from the pan and repeat with the remaining patties and cheese.
Make the avocado dip: In a blender, combine the avocado flesh, Greek yogurt, mayonnaise, garlic, lime juice, and salt. Blend on high speed for 1–2 minutes, until smooth. Season with more salt to taste.
Assemble the skewers: Thread a toasted bottom bun onto a skewer, followed by a beef patty, a piece of lettuce, a tomato half, a piece of red onion, and a pickle slice. Repeat stacking the ingredients from the beef patty to the pickle 2 more times, then finish with a top bun. Repeat to make 5 more skewers.
Serve the skewers immediately with the avocado dip and Simple Truth™ No Sugar Added Ketchup for dipping.
Enjoy!