Cheesy Stuffed Eggplant
February 11, 2021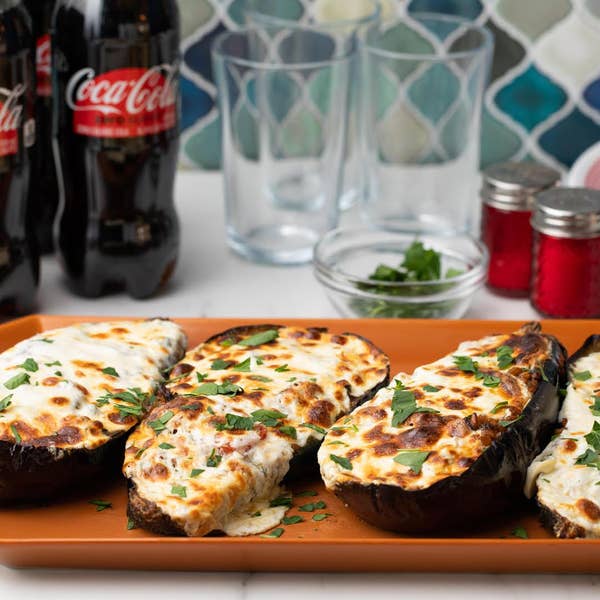 Ingredients
for 4 servings
Eggplant
2 large eggplants
¼ cup olive oil

(60 mL)

2 teaspoons kosher salt
2 teaspoons freshly ground black pepper
Farro Risotto
⅓ cup olive oil

(80 mL)

1 small yellow onion, finely chopped
4 garlic cloves, minced
2 tablespoons fresh thyme leaf
2 ½ cups baby bella mushroom

(375 g)

, sliced
1 ½ cups farro

(150 g)

⅓ cup dry white wine

(80 mL)

3 cups vegetable stock

(720 mL)

3 tablespoons unsalted butter
¾ cup grated parmesan cheese

(95 g)

1 ½ tablespoons kosher salt
1 ½ teaspoons freshly ground black pepper
⅓ cup green sweet peas

(35 g)

½ cup cherry tomato

(100 g)

, halved
3 tablespoons fresh parsley, finely chopped
For Topping
2 tablespoons grated parmesan cheese
8 slices fresh mozzarella cheese
olive oil, drizzle
kosher salt, to taste
black pepper, to taste
1 tablespoon fresh parsley, roughly chopped
Preparation
Roast the eggplant: Preheat the oven to 400°F (200°C). Line a large baking sheet with foil.
Cut the eggplants in half lengthwise and place on the prepared baking sheet cut-side up. Drizzle with the olive oil and season with the salt and pepper.
Roast the eggplant for 30–40 minutes, until tender.
Meanwhile, make the farro risotto: Heat the olive oil in a medium saucepan over medium heat. Add the onion and sauté until translucent, about 8 minutes. Add the garlic and thyme and cook, stirring, for 2 minutes, until soft. Add the mushrooms and cook until soft, about 3 minutes. Stir in the farro, allowing the oil to coat each grain, and cook for 1 minute, until grains are lightly toasted.
Pour in white wine and stir until it evaporates completely, 1 minute. Add 1 cup of the vegetable stock at a time and cook until the liquid begins to reduce before adding more, stirring occasionally, about 30 minutes total. The farro should be cooked through and creamy.
Turn off the heat and stir in the butter, Parmesan, salt, and pepper until melted and well combined.
Gently fold in the sweet peas and cherry tomatoes, then the parsley.
Remove the eggplant from the oven and turn the broiler on high. Scoop out ¼ cup of flesh from each half and discard.
Fill the eggplant halves with the farro risotto, dividing evenly. Sprinkle with the Parmesan cheese, then lay 2–3 slices of fresh mozzarella cheese on top. Drizzle with a bit of olive oil and sprinkle with salt and pepper.
Broil the eggplant for 7–10 minutes, until the mozzarella is golden brown. Garnish with the parsley and serve warm.
Enjoy!
Love this recipe? Download the Tasty app to save it and discover others like it.