Cherry Cola Chicken Sandwich As Made By Jermaine
This air-fried cherry cola chicken sandwich will rival anything you'll get from a restaurant with way less guilt. The sandwich is perfectly balanced with a lemon pepper slaw, pickles, and a cherry cola barbecue sauce that's out of this world! This recipe is sure to become a fan favorite!
August 14, 2023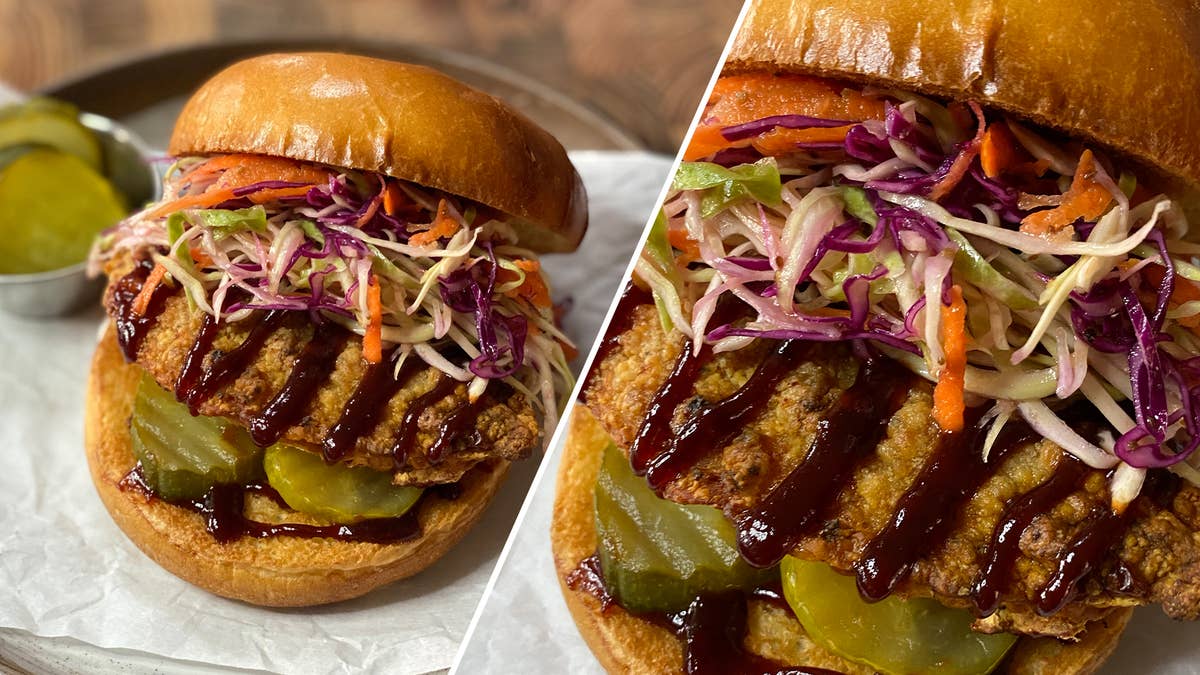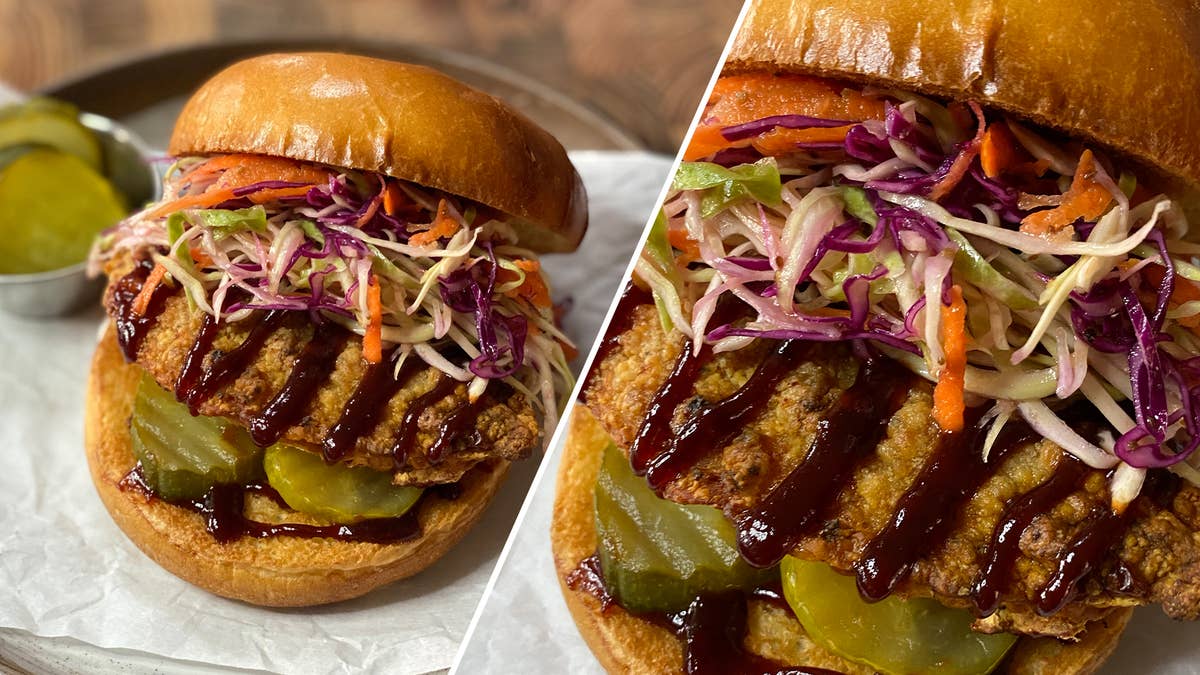 Ingredients
for 2 servings
Sauce
1 cup ketchup

(240 g)

1 cup cherry cola

(240 mL)

¼ cup worcestershire sauce

(60 mL)

¼ cup apple cider vinegar

(60 mL)

⅓ cup brown sugar

(65 g)

2 tablespoons molasses
1 teaspoon cajun seasoning
Chicken
1 chicken breast, butterflied
1 tablespoon yellow mustard
1 tablespoon hot sauce
1 tablespoon cajun seasoning
1 teaspoon kosher salt, plus more to aste
½ teaspoon freshly ground black pepper, plus more to taste
¼ cup cornstarch

(30 g)

nonstick cooking spray
Slaw
1 small head green cabbage, finely shredded
½ cup red cabbage

(50 g)

, finely shredded
1 large carrot, shredded
⅓ cup white balsamic vinegar

(80 mL)

3 tablespoons olive oil
¹¹⁄₂ teaspoon dijon mustard
1 tablespoon light agave syrup
½ teaspoon lemon pepper
1 teaspoon celery seed
kosher salt, to taste
Assembly
2 hamburger buns, toasted
pickle chip
Preparation
Make the sauce: In a medium saucepan, whisk together the ketchup, cherry cola, Worcestershire sauce, apple cider vinegar, brown sugar, molasses, and Cajun seasoning. Bring to a simmer over medium heat. Cover and cook for 15–20 minutes, whisking occasionally, until thickened. Remove the pot from the heat.
Preheat the air fryer to 400°F (200°C).
Make the chicken: In a medium bowl, toss the chicken, yellow mustard, hot sauce, Cajun seasoning, salt, and pepper together until the chicken is fully coated.
Add half of the cornstarch and coat one side of each piece of chicken. Add the remaining cornstarch and toss until the chicken is completely coated.
Transfer the chicken to the air fryer tray and spray both sides with nonstick spray. Set the chicken in the air fryer and cook for 15–20 minutes, flipping halfway, until the internal temperature of the chicken reaches 165°F (75°C) and the outside is crispy and golden brown.
Meanwhile, make the slaw: Toss together the cabbage and carrot in a large bowl.
In a small bowl, whisk together the white balsamic vinegar, olive oil, Dijon mustard, agave syrup, lemon pepper, and celery seeds. Season with salt to taste. Pour about half of the dressing over the cabbage mixture and gently toss to coat. Slowly add more until the slaw is dressed to your liking. Store any leftover dressing in an airtight container in the fridge for up to 2 weeks.
Assemble the sandwiches: Squeeze some of the cherry cola barbecue sauce onto each bottom bun, then top with pickle chips, a piece of fried chicken, more barbecue sauce, slaw, and the top bun.
Enjoy!
Hate losing that perfect recipe? Save and organize recipes easily on the Tasty app. Download now.