Chicken Bacon Ranch Sandwich Roll
Bite into this scrumptious Chicken Bacon Ranch Sandwich Roll, packed with tender chicken, crispy bacon, and creamy ranch dressing. It's a flavor explosion that'll have you coming back for more!
August 14, 2023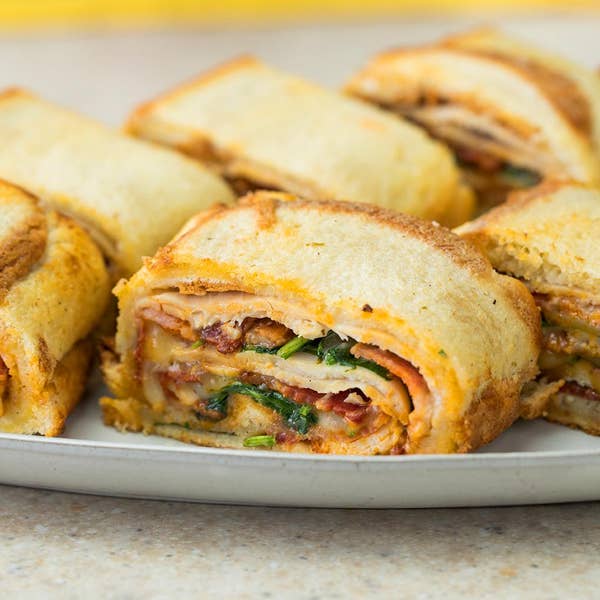 Ingredients
for 8 servings
12 bacons, depending on bacon width
⅓ cup Frank's Red Hot Original

(80 mL)

12 slices white sandwich bread
1 egg, whisked
¾ lb chicken

(340 g)

, thin deli-sliced
½ cup ranch dressing

(120 g)

½ lb monterey jack cheese

(225 g)

, thinly sliced
baby spinach, handful
ranch butter
3 tablespoons butter, melted
3 tablespoons ranch dressing
Preparation
Preheat oven to 400ºF.
Lay out bacon slices on a parchment-lined sheet tray. Generously brush each slice with Frank's Red Hot Original. Bake for 15–20 minutes, until bacon is browned and cooked through. Drain bacon on a paper towel, keeping the hot sauce brushed side facing up. Set aside.
Place a large piece of plastic wrap on a large cutting board (the entire board should be covered with plastic). Place 1 slice of bread in the upper left corner of the board. Brush the right edge of the bread with whisked egg, then place a second slice of bread next to the first so that it overlaps with the egg wash. Press the two seams of bread together with fingers to seal. Repeat with the rest of the bread, forming 3 rows of 4 slices, brushing with egg wash and pressing to seal wherever the slices overlap. This will form a large rectangle of bread.
Use a rolling pin to roll out the bread rectangle as thinly as possible.
In the center of the rectangle, lay out half of the chicken in a row. Top with a drizzle of ranch dressing. Arrange half of the bacon slices on top (horizontally), followed by half of the sliced cheese and half of the spinach. Repeat layering with the rest of the ingredients.
Brush the top edge of the sandwich roll with whisked egg. Roll the entire sandwich up from the bottom to form a long log. Wrap log tightly with plastic wrap. Refrigerate for 30 minutes.
Lower oven temperature to 350ºF.
Mix together melted butter and ranch in a small bowl. Unwrap the sandwich log, place on a sheet tray, and brush sandwich surface with ranch butter.
Bake for 18–20 minutes, until bread is lightly golden and cheese is melted.
Slice and serve. (Optional: Serve with more ranch for dipping.)
Enjoy!
Cook smarter, not harder. Use our AI chef Botatouille on the Tasty app. Download now.