Chicken Parmesan-Stuffed Garlic Bread
Get ready to indulge in this mouthwatering Chicken Parmesan Stuffed Garlic Bread, a perfect fusion of cheesy goodness and garlicky delight. It's a scrumptious twist on the classic Italian favorite that'll leave you craving for more!
May 04, 2023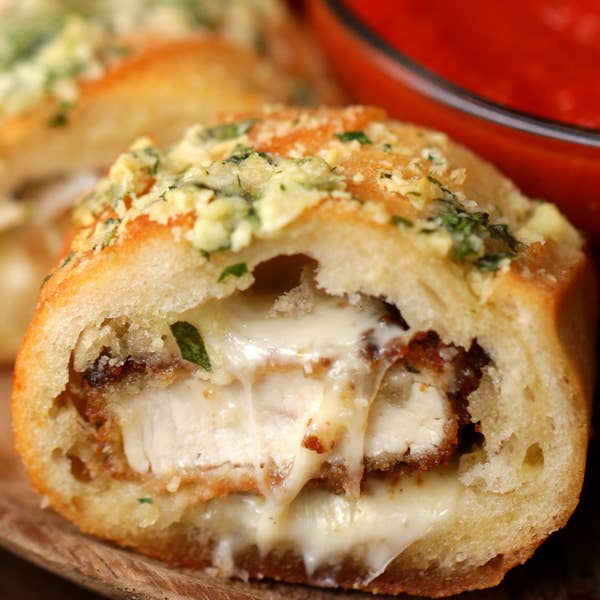 Ingredients
for 3 servings
1 boneless, skinless chicken breast
2 cups flour

(250 g)

4 eggs, beaten
2 cups seasoned breadcrumb

(230 g)

1 cup oil

(240 mL)

, for frying
1 large baguette
10 slices mozzarella cheese
marinara sauce
Garlic Butter
⅓ cup butter

(75 g)

, melted
3 cloves garlic, minced
1 tablespoon fresh parsley, chopped
1 tablespoon grated parmesan cheese
Preparation
Slice the chicken breast into ½ inch (1 ¼ cm) thick strips.
Place the flour, eggs, and bread crumbs into 3 separate bowls.
Roll a chicken strip in the flour, dusting off excess. Dip the strip into the egg, then place into the bread crumbs, coating it completely.
Repeat with the remaining chicken.
Heat the oil in a pan over medium heat to 350˚F (180˚C).
Preheat oven to 350°F (180˚C).
Fry the breaded chicken strips until both sides are golden brown.
Remove from heat and drain on a paper towel.
Slice the baguette into thirds or fourths (each baguette piece should be roughly the same length of the fried chicken strips).
Hollow out the insides of the baguette pieces with a knife.
Lay two slices of mozzarella on top of each other with a 1 inch (2 ½ cm) overlap. Place a chicken strip on the overlapping region, then fold the mozzarella tightly around the chicken.
Push the rolled chicken strips into a baguette piece.
Slice the stuffed baguette pieces into 1 inch (2 ½ cm) slices, then place them tightly side-by-side on a baking sheet lined with foil.
In a small bowl, mix together ingredients for garlic butter.
Brush the garlic butter evenly over the baguette slices, making sure some drips in between the slices.
Wrap the foil over the re-assembled baguette and bake for 20–25 minutes, until cheese is melted and the top is starting to brown.
Remove the foil and serve with marinara!
Nutrition Calories: 2689 Fat: 170 grams Carbs: 221 grams Fiber: 12 grams Sugars: 17 grams Protein: 67 grams
Enjoy!
All your favorite recipes, stored in one place. Download the Tasty app and never lose a recipe again.