96% would make again
Chicken Teriyaki Meatballs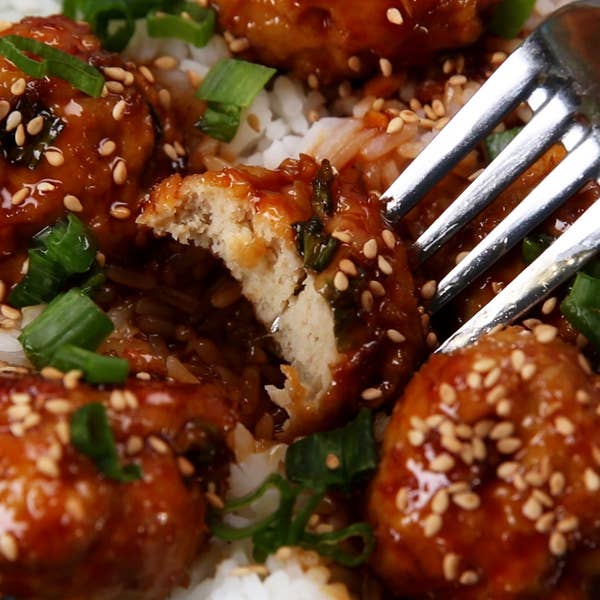 Ingredients
for 3 servings
Meatballs
1 lb ground chicken

(455 g)

1 egg
1 cup panko breadcrumbs

(50 g)

1 teaspoon garlic, minced
2 teaspoons fresh ginger, shredded
1 tablespoon soy sauce
2 tablespoons scallion, chopped
½ teaspoon salt
¼ teaspoon pepper
Glaze
½ cup soy sauce

(120 mL)

½ tablespoon sesame oil
1 tablespoon rice vinegar
2 tablespoons honey
½ tablespoon sriracha
½ cup brown sugar

(110 g)

2 teaspoons garlic, minced
2 teaspoons fresh ginger, shredded
Cornstarch Slurry
½ tablespoon cornstarch
½ tablespoon water
Garnish
sesame seed, optional
scallion, optional
Nutrition Info
Estimated values based on one serving size.
Preparation
Preheat the oven to 400ºF (200ºC). Line a baking sheet with parchment paper and set aside.
Combine all ingredients for the meatballs in a bowl.
Mix until all ingredients are well-blended.
Use an ice cream scoop or a spoon and form into meatballs. Place on the baking sheet.
Bake for 20-25 minutes (until lightly browned and the chicken is cooked through).
In the meantime, prepare the glaze! Pour soy sauce, rice vinegar, sesame oil, honey, sriracha, garlic, ginger, and brown sugar into a sauce pan.
Turn on medium heat, and stir until the sugar has dissolved.
Then, pour in the cornstarch slurry and whisk until the sauce has thickened (about 5 minutes).
Add the meatballs to the sauce pan and evenly coat them with the teriyaki glaze.
Serve over rice or serve on their own! Garnish with Scallions and Sesame Seeds.
Enjoy!