53% would make again
Chiles Rellenos
In this recipe, fresh pasilla chiles are roasted over an open flame and stuffed with queso fresco, then stewed in a rich, creamy white sauce for a decadent take on a classic Mexican dish.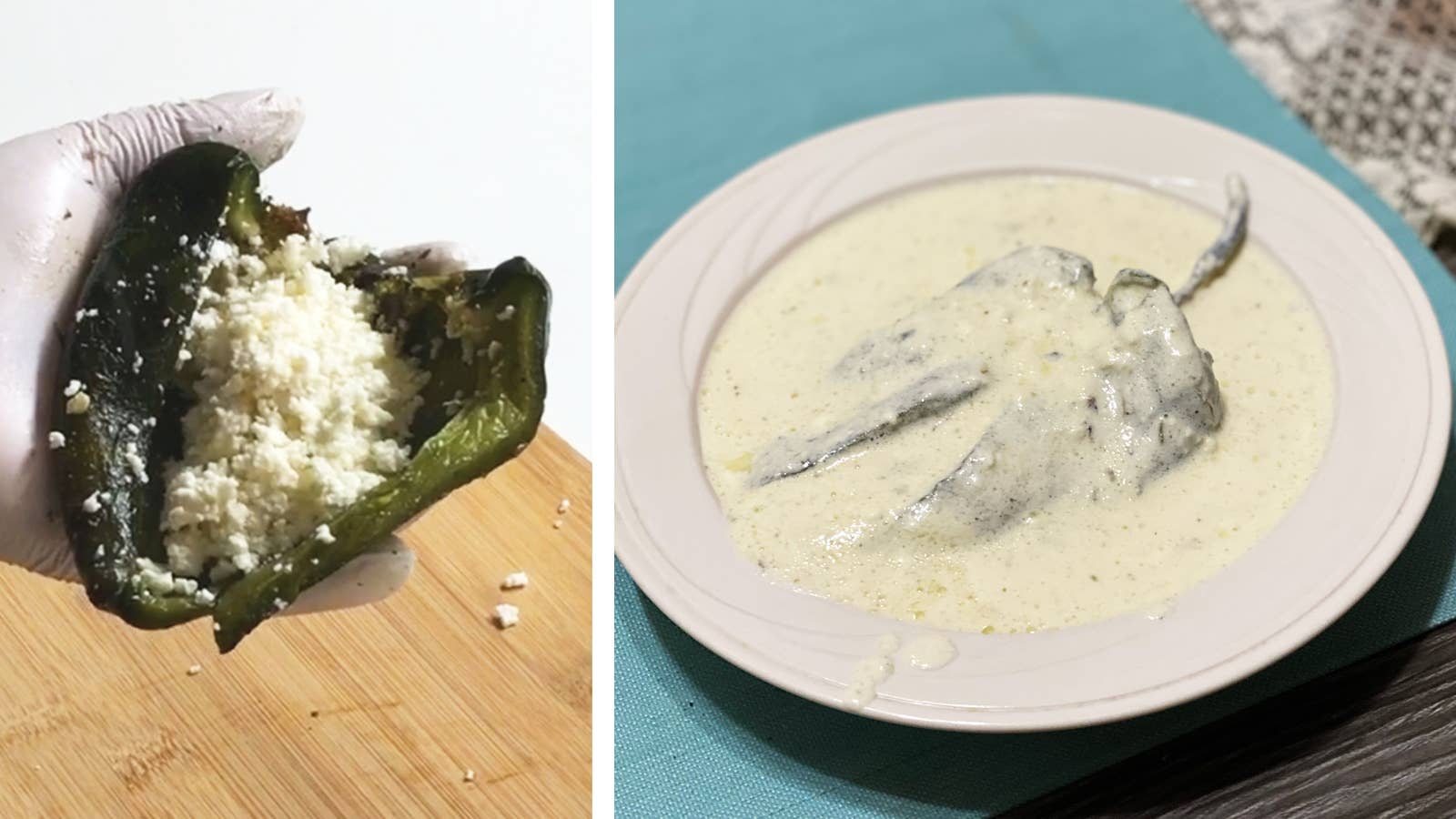 Ingredients
for 4 servings
6 fresh pasilla chiles
32 oz queso fresco

(955 g)

, crumbled
1 tablespoon vegetable oil, plus more as needed
2 jars mexican sour cream
1 cup whole milk

(240 mL)

½ teaspoon freshly ground black pepper, plus more to taste
1 teaspoon kosher salt, plus more to taste
corn tortilla, warm, for serving
Nutrition Info
Estimated values based on one serving size.
Preparation
Turn a gas stovetop burner to high heat. Roast the pasilla chiles, 2 at a time, directly over the flame, turning occasionally to char evenly, until the skin has brown spots all over, 6–8 minutes. (Alternatively, preheat the oven to 375°F (190°C). Toss the chiles with about 1 tablespoon of oil, place on a baking sheet, and roast for about 35 minutes, or until the skin is beginning to char and pull away from the flesh.)
Transfer the chiles to a medium bowl and cover with a plate. Steam for 30 minutes.
Once the chiles have steamed, use gloves to peel off the charred skin. Use a paring knife or kitchen shears to cut a vertical opening in each pepper, being careful not to cut all the way through. Gently remove the seeds.
Stuff each chile with the queso fresco.
Add enough vegetable oil to a large pot to just cover the bottom. Turn the heat to medium-high and add the peppers to the pot in a single layer with the opening face up. When the oil is hot and the peppers begin to sizzle, add the Mexican sour cream, milk, and any remaining queso fresco. Bring the cream sauce to a boil, occasionally moving the chiles around but not turning them all the way over.
Reduce the heat to medium and simmer for 8–10 minutes, until the sauce thickens slightly. Season with the pepper and salt.
Serve immediately with warm corn tortillas alongside.
Enjoy!