Chinese Takeout-style Tofu And Broccoli
June 10, 2019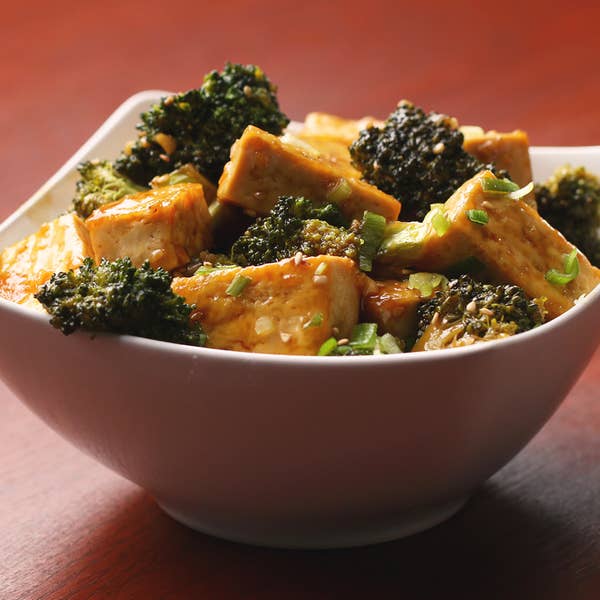 Ingredients
for 4 servings
14 oz firm tofu
1 teaspoon vegetable oil
1 ½ teaspoons sesame oil, divided
3 cups broccoli florets
3 tablespoons vegetable broth
2 garlic cloves, minced
1 teaspoon grated ginger
¼ cup soy sauce
2 tablespoons agave syrup
1 tablespoon rice vinegar
1 tablespoon cornstarch, mixed with 1 tablespoon water
¹¹⁄₂ teaspoon toasted sesame seeds, plus more for serving
cooked white rice, for serving
sliced scallions, for serving
Nutrition Info
Calories

244

Fat

11g

Carbs

25g

Fiber

5g

Sugar

11g

Protein

14g
Estimated values based on one serving size.
Preparation
Wrap the tofu in 2 layers of paper towels and place on a plate. Put another plate on top of the tofu to weigh it down and microwave for 2-3 minutes, or until drained.
After microwaving, carefully unwrap the tofu and slice into ½-1 inch cubes. Pat each cube dry.
In a large nonstick skillet, heat the vegetable oil and 1 teaspoon of sesame oil over medium-high heat. Once the oil is hot, add the tofu and cook on all sides until golden brown, 2-4 minutes per side, then remove from the pan and set aside.
Add broccoli to the hot pan with the vegetable broth. Cover and reduce the heat to medium-low. Steam for 5 minutes.
Remove the lid and increase the heat to medium-high.
Add the garlic, ginger, and remaining ½ teaspoon of sesame oil. Stir until softened.
Add the soy sauce, agave, rice vinegar, and cornstarch slurry. Stir until thickened to your desired consistency. Add the sesame seeds and stir to incorporate.
Return the tofu to the pan and toss to coat in the sauce.
Serve over white rice and garnish with scallions and sesame seeds.
Enjoy!