Chocolate Amaretto Tart
August 14, 2023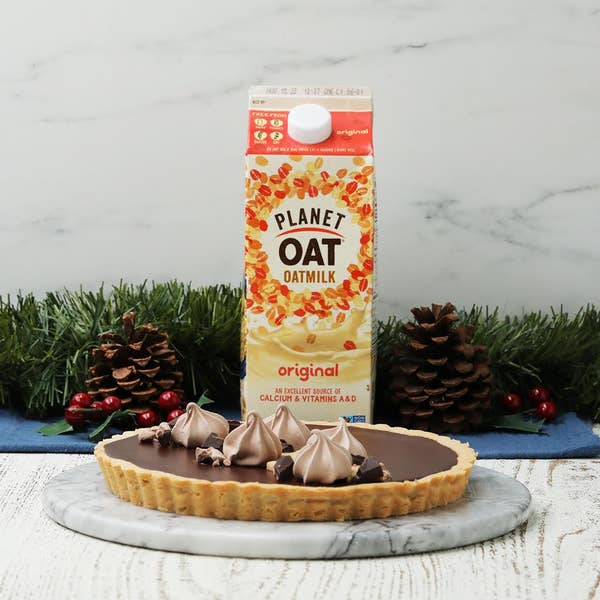 Ingredients
for 1 tart
Pastry
10 tablespoons unsalted butter, softened
½ cup powdered sugar, plus 2 tablespoons
1 hard-boiled egg yolk
1 large egg yolk
½ teaspoon vanilla extract
1 ¾ cups all-purpose flour

(215 g)

, plus more for dusting
¼ teaspoon kosher salt
½ teaspoon ground cinnamon
¼ teaspoon ground ginger
¼ teaspoon ground nutmeg
Chocolate Ganache
1 cup Planet Oat® Original Oatmilk

(240 mL)

⅓ cup granulated sugar

(65 g)

¼ cup amaretto

(60 mL)

2 cups 63% dark chocolate chips

(400 g)

6 chocolate meringues, for decorating
1 small chocolate bar, cut into rough chunks, for decorating
This recipe isn't available to shop.
Unfortunately, not all our recipes can be shopped through Tasty.
Preparation
Make the pastry: Add the butter and powdered sugar to the bowl of a stand mixer fitted with the paddle attachment. Beat on medium speed until smooth, about 2 minutes.
Push the hard-boiled egg yolk through a sieve into the butter mixture. Add the raw egg yolk and vanilla and mix on medium until combined, about 1 minute.
Add the flour, salt, cinnamon, ginger, and nutmeg, and beat on low speed until the dough comes together.
Shape the dough into a disc and wrap tightly in plastic wrap. Chill in the refrigerator for about 30 minutes, or until firm enough to roll.
On a lightly floured surface, roll the dough out to a large circle, about 12 inches in diameter and ¼ inch thick. Carefully transfer the dough to a 9-inch tart pan with a removable bottom, gently draping it so it is flush against the bottom and sides. Cut away any excess dough around the edges and reserve. Chill the tart shell for 30 minutes, or until firm.
Gather the dough scraps and roll out again to ¼ inch thick, then use a small star cookie cutter to cut out several stars. Place the stars on a small baking sheet lined with parchment paper and chill for 30 minutes.
Preheat the oven to 325°F (160°C).
After chilling, transfer the tart shell and stars to the oven. Bake the stars for 8–10 minutes and the shell for 15–20 minutes, until golden brown. Remove from the oven and let the shell and stars cool completely.
Meanwhile, make the ganache. Add the Planet Oat® Original Oatmilk, sugar, and amaretto to a small saucepan. Cook over medium heat, stirring until the sugar dissolves and the mixture is warm, but not boiling.
Add the chocolate and let sit for 2 minutes, then whisk until the chocolate is melted and the ganache is smooth. Let cool for 5 minutes.
Pour the ganache into the cooled tart shell, then transfer the tart to the refrigerator for about 4 hours, until the ganache sets.
Decorate the top of the tart with the stars, chocolate meringues, and chocolate chunks.
Slice and serve. Any leftovers will keep in an airtight container in the refrigerator for up to 4 days.
Enjoy!