88% would make again
Chocolate Caramel Pretzel Pinwheels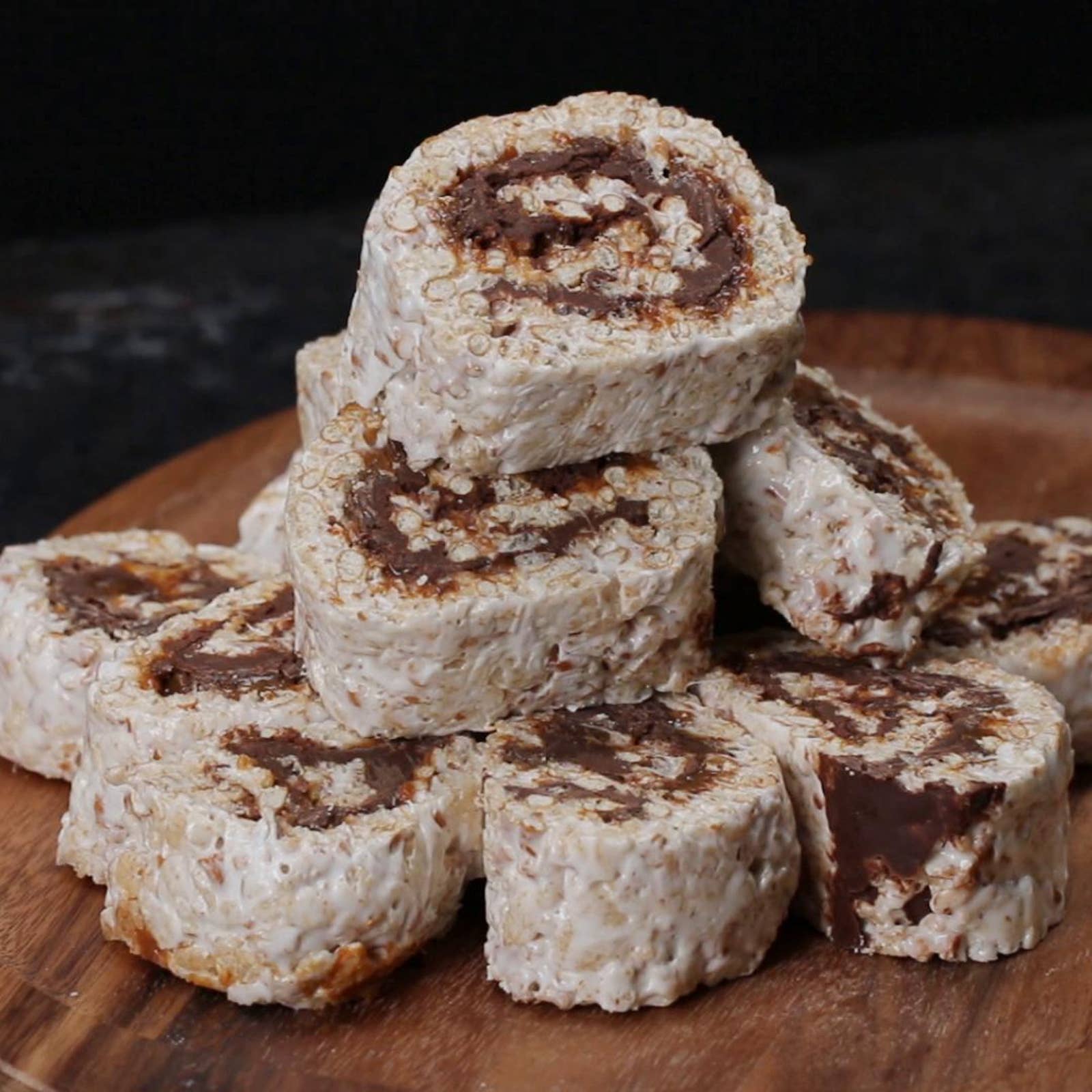 Ingredients
for 4 servings
3 cups pretzel

(120 g)

, crushed
2 cups crispy rice cereal

(60 g)

10 oz marshmallow

(285 g)

¼ cup butter

(55 g)

13 oz caramel

(370 g)

, spreadable
11.5 oz semi-sweet chocolate chips

(325 g)

nonstick spray
Preparation
Preheat oven to 300˚F (150˚C).
Combine cereal and crushed pretzels in a large bowl.
In another large bowl, melt marshmallows and butter in the microwave for 1 minute & 30 seconds, stirring half way. (Time may vary depending on your microwave, so, keep an eye on it!)
Combine cereal, pretzels and melted marshmallows. Mix well.
Prepare a baking sheet with parchment paper and spray generously with non-stick cooking spray. (You might want to spray your hands too!)
Remove marshmallow mixture from the bowl and place onto the baking sheet. Spray another piece of parchment paper with non-stick spray and lay the sprayed side on top of the marshmallow mixture.
Roll out with a rolling pin into a thin layer.
Remove the top layer of parchment paper and evenly spread caramel over the marshmallow mixture. Pour chocolate chips over the caramel.
Bake for 2 minutes, or until chocolate chips spread easily across the caramel.
Carefully & tightly roll it up longways, peeling back the parchment paper as you go. Cover in plastic wrap & chill for 2-3 hours, or until it has firmed up nicely.
Remove plastic wrap and parchment paper, and cut in 1-inch (2 cm) slices.
Enjoy!