Chocolate Cherry Red Wine Ice Cream
Cheers to this no-churn ice cream! Simmer cherries in sweetened red wine and then swirl the mixture into the ice cream base for a decadent frozen dessert. Top it off with chopped dark chocolate to make your scoops extra special. This content is intended solely for users of legal drinking age. Drink responsibly.
March 02, 2022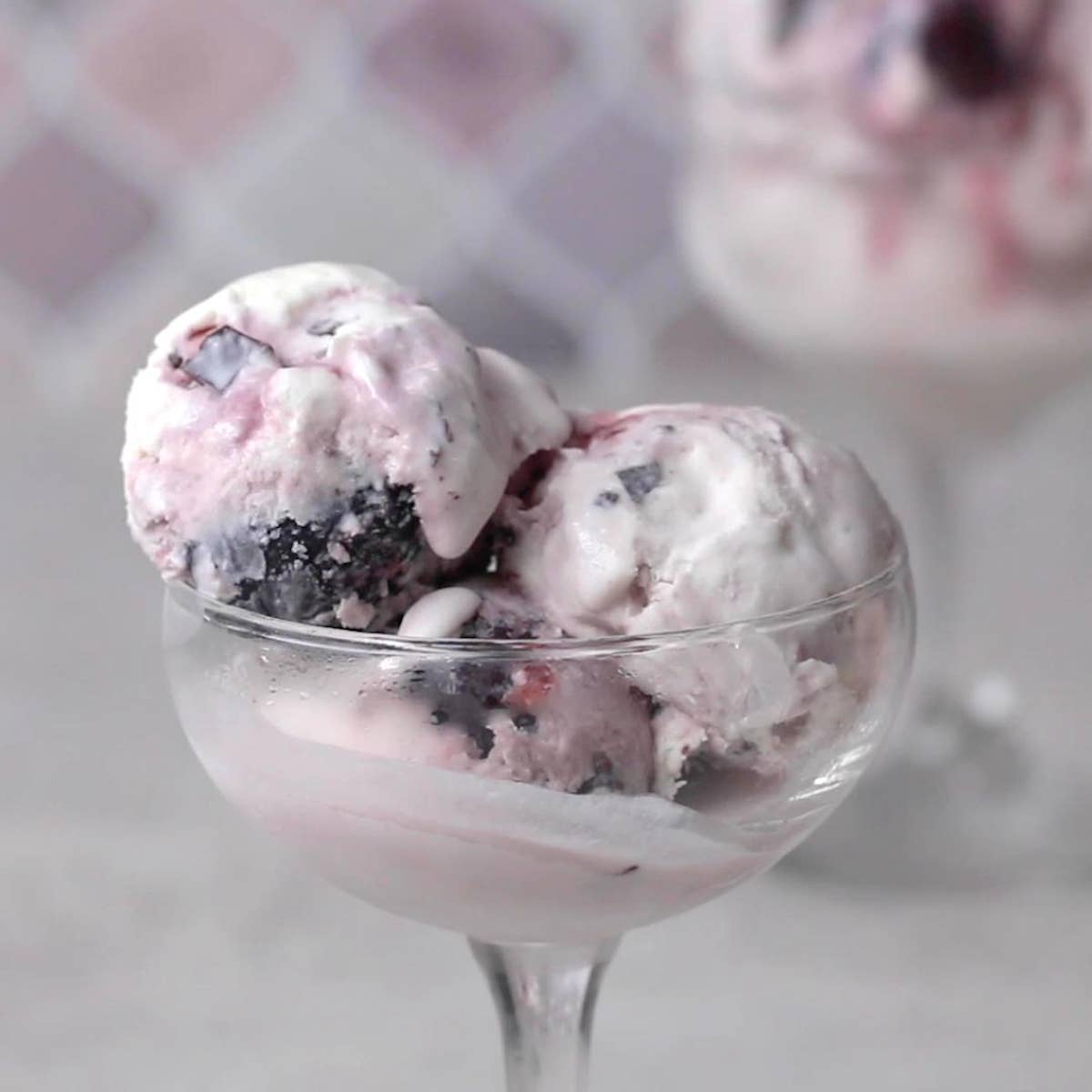 Ingredients
for 2 servings
Cherry Red Wine Reduction
¾ cup red wine

(180 g)

, such as cabernet sauvignon
½ cup sugar

(100 g)

10 oz frozen cherry

(285 g)
Ice Cream Base
14 oz sweetened condensed milk

(395 g)

1 teaspoon vanilla extract
1 pinch kosher salt
2 cups heavy whipping cream

(480 mL)

, very cold
Assembly
½ cup dark chocolate

(85 g)

, chopped
Preparation
Make the cherry red wine reduction: Add red wine and sugar to a small saucepan. Bring to a boil, then immediately reduce to a bare simmer. Add the cherries and continue to simmer for about 5 minutes, until the mixture is thick enough to coat the back of a spatula and leave a clean line when you drag your finger across. Immediately transfer the reduction to a heatproof bowl or glass measuring cup and let cool for about 15 minutes. Transfer to the refrigerator to chill completely.
Make the ice cream base: Add the sweetened condensed milk, vanilla, and salt to a medium bowl and stir to combine. Set aside.
Add the heavy cream to a large bowl. Using the whisk attachment on an electric hand mixer, whip the cream until stiff peaks form, 2–3 minutes.
Gently fold about 1 cup (240 ml) of the whipped cream into the condensed milk mixture. Once combined, pour the condensed milk mixture into the bowl with the remaining whipped cream. Gently fold until no streaks remain.
Pour the ice cream base into a 9 x 5-inch (23 x 12 cm) metal loaf pan and immediately transfer to the freezer for 2 hours.
Remove the ice cream base from the freezer. Pour the chilled cherry red wine reduction over the ice cream and add the chopped dark chocolate. Use a butter knife to slowly swirl together. Return to freezer for another 1–2 hours, or overnight.
Scoop and serve.
Enjoy!