Chocolate Meringue Tart
This elegant dessert features a crisp chocolate crust, a fluffy meringue topping, and a rich chocolate filling that's perfect for any special occasion.
May 14, 2023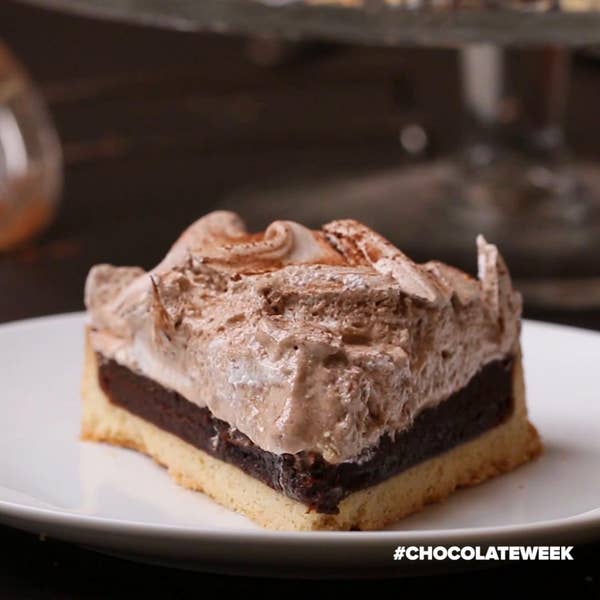 Ingredients
for 6 servings
1 pre-baked tart shell, 25 cm (9 in)
Chocolate Filling
1 ½ cups chocolate

(250 g)

1 cup butter

(200 g)

2 eggs
3 egg yolks
¾ cup plain flour

(100 g)

¼ cup sugar

(50 g)
Meringue
6 egg whites
1 ½ cups caster sugar

(300 g)

1 tablespoon vanilla extract
1 teaspoon wine vinegar
¾ cup cocoa powder

(100 g)
Preparation
Pre-heat the oven to 150°C (300°F).
Gently melt the chocolate and butter together over a bain-marie.
Once combined, take off the heat.
Stir in the eggs, egg yolks and sugar.
Fold in the flour.
Pour into the tart shell.
Bake for 15 minutes.
Meanwhile, prepare the meringue by whisking the egg whites with an electric hand whisk.
Once foamy, gradually add in the sugar, followed by the vanilla and vinegar.
Whisk until stiff peaks form.
Gently fold in the cocoa powder.
Spoon on top of the chocolate tart.
Bake for 30 minutes.
Cut into slices and serve.
Enjoy!
Don't let a good recipe slip away. Download the Tasty app and save your favorites for easy access.