Chocolate Mousse
You don't need to go to a pricey restaurant or work really hard to make your own chocolate mousse. This four-ingredient recipe involves beating heavy cream and sugar with an electric mixer, stirring your favorite dark or milk chocolate and hot cream, and then folding the two mixes together. Fancy it up by putting the mousse in chilled martini glasses and topping with whatever you want — whipped cream, fresh raspberries, pirouette cookies, or chocolate shavings.
August 23, 2020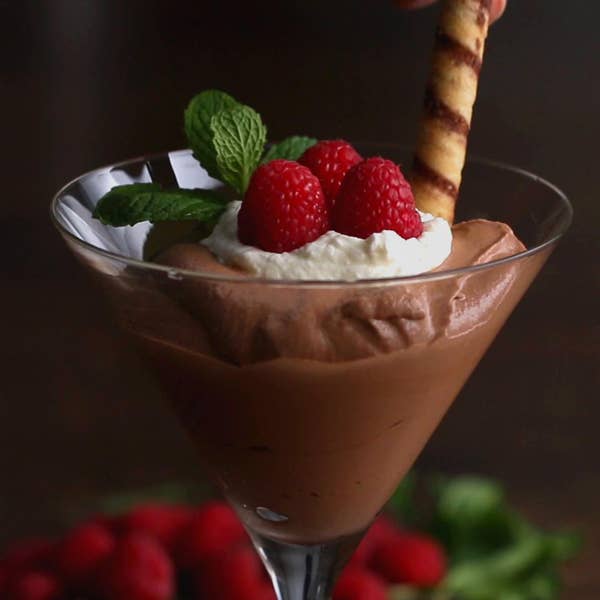 Ingredients
for 2 servings
1 cup heavy cream

(240 mL)

3 tablespoons sugar
2 oz chocolate

(60 g)

, milk or dark, broken into small pieces
¼ cup heavy cream

(60 mL)

, hot
6 raspberries, to garnish
2 sprigs mint, to garnish
2 tubes tube cookie, to garnish
Preparation
In a large bowl, combine the heavy cream and the sugar, beating with an electric mixer until soft peaks form when lifted from the bowl. Set aside two large spoonfuls of the whipped cream to garnish with at the end.
Whisk the chocolate and hot cream in a separate bowl until smooth, then fold in the mixture into the cream with a spatula until no streaks remain.
Split the chocolate cream mixture evenly between two martini glasses or your serving dish of choice, then chill for at least 1 hour.
Garnish with a spoonful of whipped cream, raspberries, mint, and the chocolate cookie.
Enjoy!
Your favorite recipes are just a click away. Download the Tasty app to save and organize your favorites.