Chocolate Peppermint Whoopie Pies
In the spirit of the holidays, we put a peppermint twist on a childhood favorite. Two mint chocolate cookie cakes are sandwiched together with a classic marshmallow creme filling. Roll the sides in crushed peppermint candies for extra crunch and seasonal fun. Don't forget to refrigerate the filling before piping onto the cakes for less mess and easy eating.
December 13, 2021
Total Time
30 minutes
30 min
Cook Time
12 minutes
12 min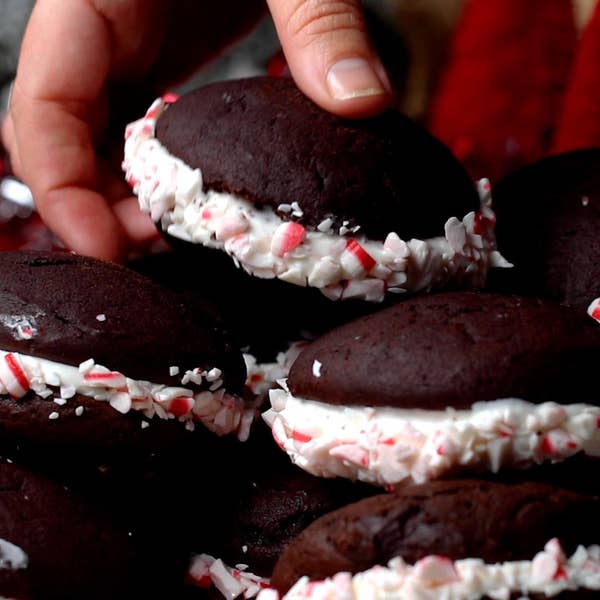 Total Time
30 minutes
30 min
Cook Time
12 minutes
12 min
Ingredients
for 10 servings
Mint Chocolate Cakes
2 ¼ cups all purpose flour

(280 mL)

½ cup cocoa powder

(55 g)

1 teaspoon baking powder
1 teaspoon baking soda
1 teaspoon kosher salt
½ teaspoon espresso powder, optional
1 stick unsalted butter, room temperature
¾ cup light brown sugar

(150 g)

¼ cup granulated sugar

(50 g)

1 large egg, room temperature
1 teaspoon peppermint extract
1 cup whole milk

(240 mL)

, room temperature
Marshmallow Filling
1 stick unsalted butter, room temperature
14 oz marshmallow cream

(420 g)

2 ½ cups powdered sugar

(280 g)

, plus more as needed
¼ teaspoon kosher salt
Assembly
40 crushed peppermint candies
Preparation
Preheat the oven to 350°F (180°C). Line 2 baking sheets with parchment paper.
Make the cakes: In a medium bowl, whisk together the flour, cocoa powder, baking powder, baking soda, salt, and espresso powder, if using.
In a large bowl, cream together the butter, brown sugar, and granulated sugar with an electric hand mixer on medium-high speed until light and fluffy, 1–2 minutes. Add the egg and peppermint extract and beat until smooth and lightened in color, about 1 minute.
Add about a third of the dry ingredients and mix on medium-low speed until combined, then add half of the milk and mix until incorporated. Continue alternating additions of the dry ingredients and milk, scraping down the sides and bottom of the bowl as needed.
Use a 1½-ounce ice cream scoop to portion out the batter onto the prepared baking sheets, spacing at least 2 inches apart.
Bake the cakes for 12–14 minutes, until firm to the touch and a toothpick inserted into the center of a cake comes out clean. Remove from the oven and let cool completely.
Make the marshmallow filling: Add the butter and marshmallow creme to a large bowl and beat with an electric hand mixer on medium-high speed until fully combined, 2–3 minutes. Sift in the powdered sugar and salt, then beat for another 2–3 minutes, until combined. The mixture should be stiff; if not, add a few more tablespoons of powdered sugar. Transfer the filling to a piping bag or zip-top bag. Place the piping bag in the refrigerator for at least 15 minutes before assembling the whoopie pies.
When ready to assemble, cut a 1-inch (2.5 cm)-wide opening from the corner of the piping bag.
Pipe a thick spiral of the filling (¼–⅓ cup) onto the flat sides of half of the cakes, leaving a ¼-inch (½ cm) border around the edge. Place the remaining cakes on top of the filling, domed sides up, and press down lightly to adhere.
Add the crushed peppermint candies to a bowl. Roll the sides of each whoopie pie into the peppermint candies to coat. (For a more polished look, use a spoon to tilt the crushed peppermints onto the exposed filling).
Refrigerate the whoopie pies until ready to serve, then remove from the refrigerator at least 10 minutes prior to serving.
Enjoy!
Cook smarter, not harder. Use our AI chef Botatouille on the Tasty app. Download now.