90% would make again
Chocolate Snack Cupcakes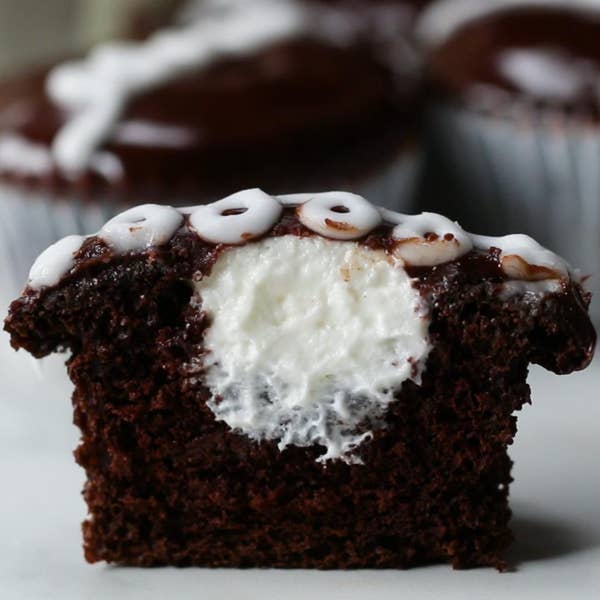 Inspired by mybakingaddiction.com
Ingredients
for 24 servings
Cupcakes
1 ½ cups all-purpose flour

(185 g)

¾ cup cocoa powder

(90 g)

¾ teaspoon baking powder
1 ½ teaspoons baking soda
½ teaspoon salt
1 ½ cups sugar

(300 g)

½ cup warm water

(120 mL)

1 cup buttermilk

(240 mL)

2 large eggs
1 teaspoon vanilla extract
Marshmallow Filling
1 cup heavy cream

(240 mL)

1 cup marshmallow cream

(115 g)
Ganache
1 cup semi-sweet chocolate chips

(175 g)

⅔ cup heavy cream

(160 mL)
Icing
1 cup powdered sugar

(120 g)

1 tablespoon milk
Nutrition Info
Estimated values based on one serving size.
Preparation
Preheat the oven to 350˚F (180˚C).
Sift the flour, cocoa powder, baking powder, baking soda, and salt into a large bowl. Add the sugar and whisk to combine.
Add the warm water, buttermilk, eggs, and vanilla and whisk until combined.
Line 2 muffin tins with paper liners.
Scoop the batter into prepared muffin tins, filling each cup a little more than halfway.
Bake for about 20 minutes, until the tops of the cupcakes spring back when gently pressed. Let cool completely.
Make the marshmallow filling: In a medium bowl, whip the heavy cream with an electric hand mixer until soft peaks form. Add the marshmallow cream and whip until stiff.
Transfer the filling to a piping bag fitted with a medium round tip or a zip-top bag with a corner snipped off.
Use the end of a whisk or another utensil to push down the center of each cupcake.
Pipe the filling into the cupcakes, leveling off the tops if needed. Freeze for 15 minutes while you make the ganache and icing.
Make the ganache: Add the chocolate chips and heavy cream to a medium microwave-safe bowl. Microwave in 30-second increments, until melted. Mix together until smooth.
Make the icing: In a medium bowl, stir together the powdered sugar and milk until smooth. The icing should fall off the spatula in ribbons. If it is too thin, add a bit more powdered sugar.
Transfer the icing to a piping bag fitted with a small tip or a zip-top bag with a corner snipped off.
Dip the top of each cupcake in the ganache, then set aside to dry for 10 minutes.
Pipe icing curls across the center of the cupcakes and let dry for 15 minutes at room temperature.
Enjoy!