Chocolate Sprinkle Cake Pop Ice Cream Sandwiches
August 17, 2023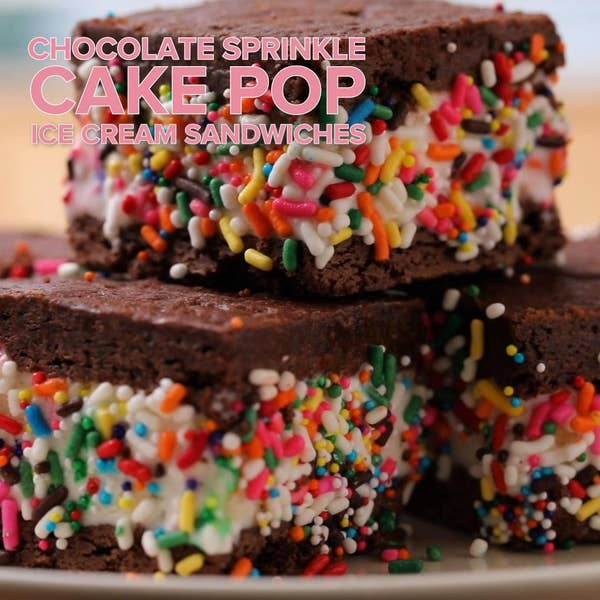 Ingredients
for 12 servings
12 tablespoons unsalted butter, melted and cooled slightly
1 cup granulated sugar

(200 g)

2 large eggs
2 teaspoons vanilla extract
1 cup all purpose flour

(125 g)

¾ cup cocoa powder

(90 g)

1 teaspoon baking powder
1 teaspoon kosher salt
1 ½ qt Kroger® Brand Deluxe Cake Pop Ice Cream

(1.4 kg)

¼ cup rainbow sprinkles

(35 g)
This recipe isn't available to shop.
Unfortunately, not all our recipes can be shopped through Tasty.
Preparation
Preheat the oven to 350°F (180°C). Line a rimmed baking sheet with parchment paper.
In a large bowl, whisk together the melted butter and sugar until creamy. Add the eggs and whisk until smooth. Stir in the vanilla, flour, cocoa powder, baking powder, and salt until combined.
Scrape the batter onto the prepared baking sheet and, using a spatula, smooth in a thin, even layer, leaving a ½" border of parchment paper around the edges. Bake until the cake is set, 10–12 minutes. Transfer the baking sheet to a wire rack to cool completely.
When the cake is cool, use the parchment paper to lift from the pan onto a cutting board. Cut in half crosswise. Dollop the Kroger® Brand Deluxe Cake Pop Ice Cream evenly over the top of one of the cake halves and, using a spatula, spread the ice cream in an even layer. Place the remaining cake half on top of the ice cream, with the top facing up, to make a large sandwich. Line the baking sheet with a fresh sheet of parchment paper, place the ice cream sandwich on top, and freeze until firm, at least 6 hours.
Remove the sandwich cake from the freezer. Trim about ¼" off of each edge, then cut into 12 smaller square sandwiches.
Place the sprinkles on a plate. Carefully roll the sides of the ice cream sandwiches in the sprinkles to coat. Serve immediately or freeze in Kroger® Brand Reclosable Colorful Assorted Sandwich Bags for up to 1 week.
Enjoy!