Classic Pound Cake
This classic pound cake is perfect for any occasion. With a tender, moist crumb and sweet neutral flavor, it's a deliciously blank canvas–serve with fresh fruit, ice cream, or drizzled with your sauce of choice!
May 25, 2021
Total Time
1 hr 35 min
1 hr 35 min
Prep Time
20 minutes
20 min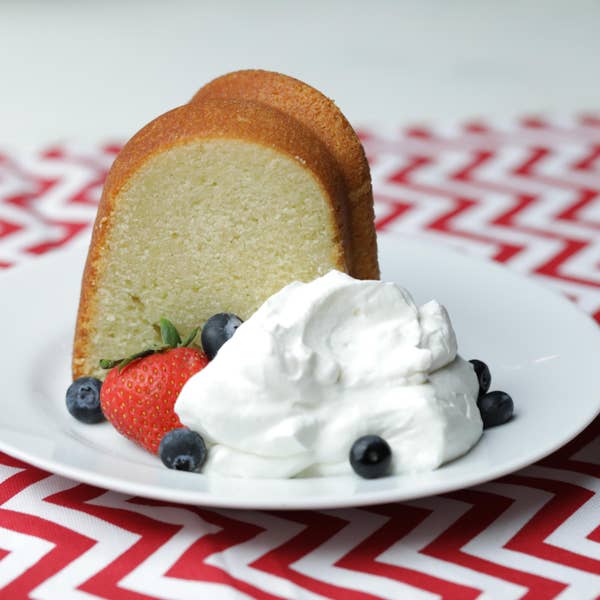 Total Time
1 hr 35 min
1 hr 35 min
Prep Time
20 minutes
20 min
Ingredients
for 2 loaf cakes
nonstick cooking spray, for greasing
3 ½ cups all purpose flour

(435 g)

, sifted
1 ½ teaspoons baking powder
½ teaspoon baking soda
4 sticks unsalted butter, room temperature
2 ½ cups granulated sugar

(500 g)

1 teaspoon kosher salt
6 large eggs, room temperature
½ cup buttermilk

(120 mL)

2 teaspoons vanilla extract
½ cup sour cream

(120 mL)
Preparation
Preheat the oven to 325°F (160°C). Grease a 10-inch Bundt pan or 2 8 x 5-inch (20 x 12 cm) loaf pans with nonstick spray.
In a medium bowl, whisk together the flour, baking powder, and baking soda.
In a large bowl, combine the butter, sugar, and salt. Beat with an electric hand mixer on medium speed for about 6 minutes, or until light and fluffy. Scrape down the sides and bottom of the bowl with a rubber spatula and beat again for 1–2 minutes. Add the eggs, 1 at a time, beating well after each addition.
With the mixer running on low speed, add the buttermilk and vanilla. Increase the mixer speed to high and beat for 30 seconds.
Add ⅓ of the flour mixture and beat on medium speed until incorporated. Add ½ of the sour cream and beat until incorporated. Continue alternating additions of flour and sour cream, scraping down the sides of the bowl between each addition. Beat on medium speed after all of the flour is incorporated for about 1 minute, until the batter is well combined.
Transfer the batter to the prepared Bundt pan or divide between the loaf pans and bake for about 60 minutes, or until a cake tester inserted to the center of the cake comes out clean. Let the cake cool in the pan(s) for 15–20 minutes, then invert onto a wire rack and unmold from the pan(s). Let cool completely.
Slice and serve.
Enjoy!
RECIPE BY: Morgan Baker
Busy? Plan your meals for the week using our exclusive meal planner tool in the Tasty app. Download now and get organized.