Coffee-Braised Short Ribs
October 26, 2021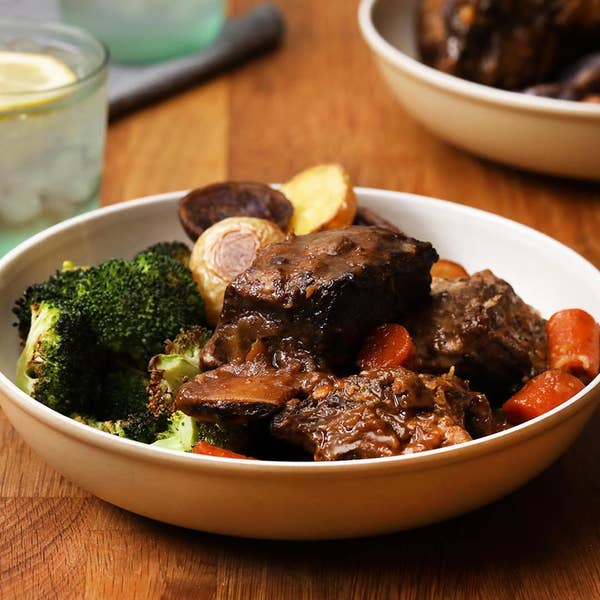 Ingredients
for 4 servings
¼ cup Private Selection® Sumatran Mandheling Medium-Dark Roast Ground Coffee

(25 g)

2 cups boiling water

(480 mL)

3 lb bone-in English-cut beef short ribs

(1.2 g)

, cut crosswise into 2-inch pieces
1 ¾ teaspoons kosher salt, divided
Private Selection™ Tellicherry Black Peppercorn, to taste
2 tablespoons canola oil
1 Private Selection® Vidalia Sweet Onion, cut into 1 in (2.5 cm) pieces
4 cloves garlic, crushed
2 large carrots, cut into 1 in (2.54 cm) pieces
1 tablespoon all purpose flour
16 oz beef broth

(450 g)

2 bay leaves
2 sprigs fresh rosemary
1 ½ lb Private Selection™ Petite Medley Potatoes

(650 g)

, halved
2 ½ tablespoons Private Selection™ Italian Extra Virgin Olive Oil, divided
16 oz Private Selection™ Handpicked Broccoli Florets

(450 g)

, defrosted
This recipe isn't available to shop.
Unfortunately, not all our recipes can be shopped through Tasty.
Preparation
Arrange an oven rack in the lower third position and the other in the upper third position. Preheat the oven to 350°F (180°C).
Add the Private Selection® Sumatran Mandheling Medium-Dark Roast Ground Coffee to the bottom of a French press. Pour the boiling water over the grounds. Give the coffee a quick stir, cover with the lid (leaving the plunger up) and let sit for 4 minutes. Press the plunger down all the way to the bottom. Immediately pour the coffee into a heatproof liquid measuring cup and set aside.
Season the short ribs all over with 1 teaspoon salt and pepper to taste.
Heat the canola oil in a large Dutch oven over medium-high heat. When the oil is shimmering, add short ribs, (in batches if needed) and cook until browned on all sides, about 8 minutes total. Transfer the short ribs to a plate and discard all but a thin layer of oil.
Return the Dutch oven to medium-high heat and add the Private Selection® Vidalia Sweet Onion, garlic, and carrots. Cook until the onion is translucent and the carrots have started to soften, about 5 minutes. Add the flour and cook, stirring frequently, until golden in color, 1 minute more.
Add the beef broth and use a wooden spatula to scrape up the browned bits from the bottom of the pot. Add the bay leaves, rosemary, short ribs and any accumulated juices, and 1½ cups of the brewed coffee. Bring to a boil.
Cover the Dutch oven and transfer to the oven. Cook for about 1½ hours, or until the short ribs are tender and the sauce has thickened.
Meanwhile, line 2 baking sheets with parchment paper.
Add potatoes to a prepared baking sheet and toss with 1½ tablespoons Private Selection™ Italian Extra Virgin Olive Oil and ½ teaspoon salt until well coated. Spread in a single layer, cut side down. On the other prepared baking sheet, toss the broccoli with the remaining tablespoon olive oil and remaining ¼ teaspoon salt.
After short ribs have been in the oven for 1 hour, add the potatoes and broccoli to the oven and cook until tender, 25–30 minutes.
Remove the Dutch oven from the oven and transfer the short ribs to a platter. Discard the rosemary stems and bay leaves. Let the sauce settle, then skim the fat from the surface and discard. Season the sauce with more salt to taste.
Divide the potatoes and broccoli between shallow bowls, then top with the short ribs and spoon sauce over top.
Enjoy!