Color Wheel Cookie Puzzle
A sweet treat to use as a teaching tool, then eat! Simply cut cookie wedges from our classic shortbread cookie dough, bake, and decorate with a rainbow of royal icing. Have fun with your kids as you piece this edible puzzle together and learn primary, secondary, and tertiary colors.
July 17, 2022
Total Time
3 hr 35 min
3 hr 35 min
Prep Time
10 minutes
10 min
Cook Time
20 minutes
20 min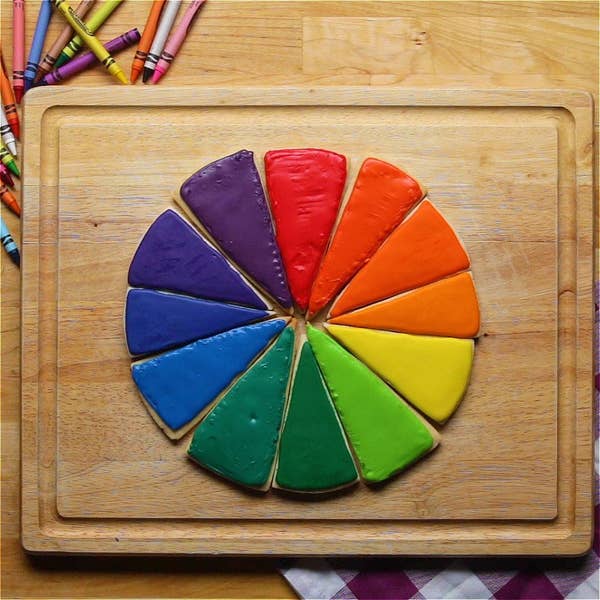 Total Time
3 hr 35 min
3 hr 35 min
Prep Time
10 minutes
10 min
Cook Time
20 minutes
20 min
Ingredients
for 12 cookies
Royal Icing
6 cups powdered sugar

(660 g)

, sifted
4 tablespoons meringue powder
1 teaspoon vanilla extract
8 tablespoons water
red gel food coloring
orange gel food coloring
yellow gel food coloring
green gel food coloring
blue gel food coloring
violet food coloring
deep violet gel food coloring
Included in this Recipe
How To Decorate Shortbread Holiday Cut-Out Cookies With Royal Icing
Nutrition Info
Calories

287

Fat

0g

Carbs

73g

Fiber

0g

Sugar

71g

Protein

0g
Estimated values based on one serving size.
Preparation
Preheat the oven to 350°F (180°C). Line a large baking sheet with parchment paper.
Make the shortbread cookie dough according to the recipe instructions.
On a lightly floured surface, roll out the dough to ½-inch thick and cut out a 9-inch circle. Cut the circle into quarters, then cut the quarters into thirds for 12 triangular pieces. Gently transfer the pieces to the prepared baking sheet. Use the dough scraps to make smaller cookies, or roll into a ball, wrap in plastic wrap, and store in an airtight container for 2–4 weeks.
Bake for 8–10 minutes, or until light golden around the edges.
Make the royal icing: In a large bowl, whisk together the powdered sugar and meringue powder. Add the vanilla and water and whisk until smooth.
Divide the icing evenly between 12 small bowls. Color each bowl of icing: 4 drops red for red, 1 drop red and 4 drops orange for red-orange, 4 drops orange for orange, 1 drop orange and 4 drops yellow for orange-yellow, 4 drops yellow for yellow, 2 drops yellow and 2 drops green for yellow-green, 4 drops green for green, 3 drops green and 1 drop blue for blue-green, 4 drops blue for blue, 3 drops blue and 3 drops deep-violet for blue-violet, 4 drops violet for violet, 4 drops deep-violet and 3 drops red for red-violet. Mix well until evenly colored. Immediately transfer the icing to piping bags or cover with plastic wrap and prevent a skin from forming.
Decorate the puzzle pieces: Cut a small opening in the tip of a piping bag. Outline the outer edge of a cookie, then fill in the center, using a toothpick or cake tester to make sure the surface is fully covered and pop any air bubbles. Repeat with the remaining cookies and icings in rainbow color order. Let the icing set for at least 3–4 hours, up to overnight.
Arrange the cookies as a color wheel, then serve.
Enjoy!
Cook smarter, not harder. Use our AI chef Botatouille on the Tasty app. Download now.