Confetti Crullers
Get ready to party with these Confetti Crullers! These delightful, twisted treats are fried to golden perfection and coated in a sweet glaze with a burst of colorful sprinkles.
May 04, 2023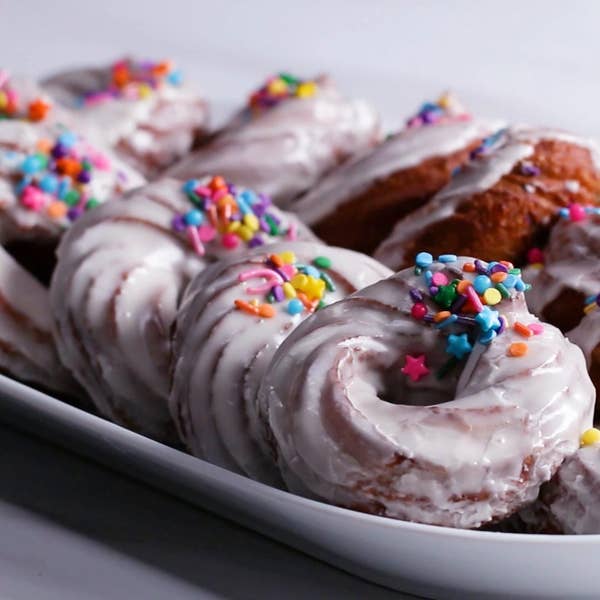 Ingredients
for 16 crullers
1 cup unsalted butter

(230 g)

, 2 sticks, cubed
1 ¼ cups water

(300 mL)

1 ¼ cups milk

(300 mL)

¼ cup granulated sugar

(50 g)

1 teaspoon salt
1 cup all-purpose flour

(125 g)

½ cup whole wheat flour

(65 g)

2 teaspoons baking powder
5 large eggs
2 teaspoons vanilla extract, divided
⅓ cup rainbow sprinkles

(65 g)

, plus more for topping
8 cups canola oil

(1.9 L)
Glaze
4 cups powdered sugar

(480 g)

, sifted
4 tablespoons milk
1 teaspoon vanilla extract
3 tablespoons cream cheese, softened
Special Equipment
large star piping tip
deep fry thermometer
Preparation
In a large pot over medium heat, combine the butter, water, milk, sugar, and salt. Whisk until the butter is melted and the mixture is steaming, about 5 minutes.
Quickly whisk the all-purpose and whole wheat flours and the baking powder into the hot milk mixture. Continue cooking, stirring constantly, for 5 more minutes. Remove the pot from heat and stir with a spatula to cool the dough.
When the dough is no longer hot to the touch, add the eggs one at a time, stirring to incorporate before adding the next.
Add the vanilla and sprinkles and stir to distribute evenly.
Transfer the dough to a piping bag or zip-top bag fitted with a large star tip.
On a parchment-lined baking sheet, pipe 4-inch (10-cm) circles of dough. Chill in the freezer until solid, about 20 minutes.
Meanwhile, make the glaze: In a large bowl, combine the powdered sugar, milk, vanilla, and cream cheese. Whisk until smooth and runny. Set aside.
Heat the oil in a large pot until it reaches 350°F (180°C).
Carefully add the crullers to the hot oil. Fry about 3 at a time for 4-5 minutes, flipping halfway, until golden brown. The fried crullers should feel much lighter than they were originally. Transfer the fried crullers to a wire rack set over a baking sheet.
While still warm, dip one side of the crullers in the glaze. Return to the wire rack and allow excess glaze to drip off. Top with sprinkles.
Enjoy!
Cook smarter, not harder. Use our AI chef Botatouille on the Tasty app. Download now.