Copycat Costco Chicken Bake
Skip the trip to Costco and make these chicken bakes at home in a flash! With just a few simple ingredients, you can make this classic food court item in under an hour–no membership required.
September 15, 2022
Total Time
40 minutes
40 min
Prep Time
15 minutes
15 min
Cook Time
15 minutes
15 min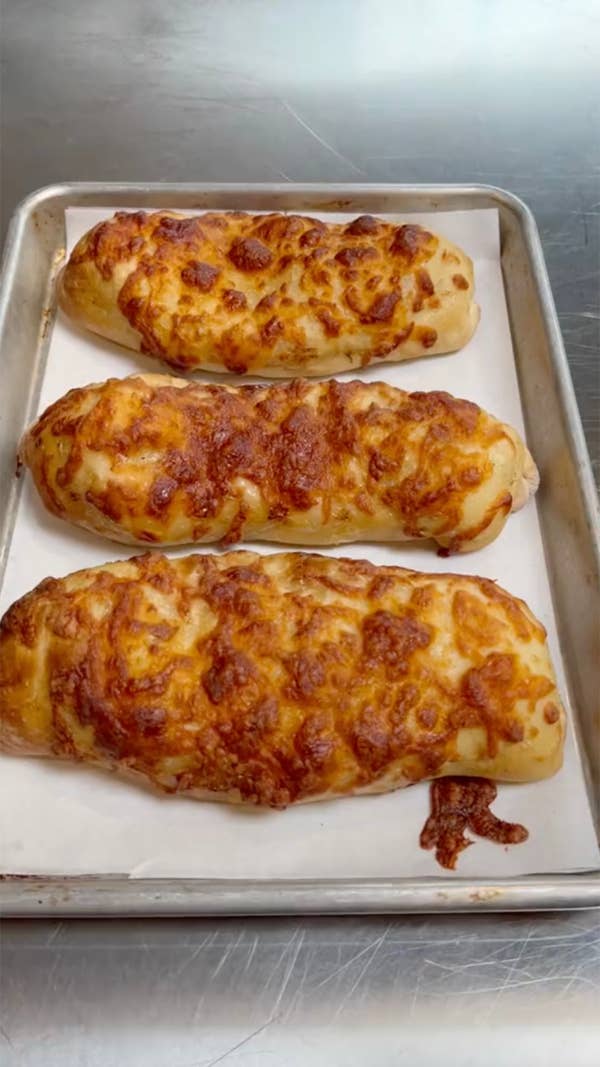 Total Time
40 minutes
40 min
Prep Time
15 minutes
15 min
Cook Time
15 minutes
15 min
Ingredients
for 4 servings
1 lb pizza dough

(425 g)

AP flour, for dusting
¾ cup ranch dressing

(180 g)

, divided
2 ¾ cups shredded low-moisture mozzarella

(275 g)

, divided
1 cup thick cut bacon

(225 g)

, cooked, chopped
2 cups cooked chicken

(250 g)

, cut into 1/2-inch pieces
thinly sliced chive, optional
Preparation
Preheat the oven to 400˚F (200˚C). LIne a baking sheet with parchment paper.
Use a knife or bench scraper to divide the dough into 4 equal pieces (about 4 ounces each). Lightly dust a clean surface with flour, then use a rolling pin to roll one portion of dough out to a roughly 7 x 10-inch rectangle (it doesn't need to be perfect) with a shorter end closest to you.
Use a spoon to spread about 2 tablespoons of ranch dressing over the center of the dough rectangle, leaving a 2-inch border around the edges. Sprinkle ½ cup of mozzarella over the ranch dressing, followed by ¼ cup of bacon, then ½ cup chicken. Sprinkle another tablespoon of mozzarella and chives on top, if desired.
Gently lift one of the longer sides of the dough up and over the filling, trying to wrap it as far over the filling as possible. Tuck a short end up and over the filling, as if rolling a burrito, and repeat with the other short end. Lift the other long side of dough up and over the filling as tightly as possible without tearing the dough, then lightly pinch and press the edges of the dough together to seal. Set the chicken bake seam-side down on the prepared baking sheet and repeat with the remaining ingredients to make 3 more chicken bakes.
Use a pastry brush to generously brush the remaining ranch dressing over the tops of the chicken bakes, then sprinkle each with 1–2 tablespoons of mozzarella.
Bake the chicken bakes until the tops are golden brown and bubbly and the dough has puffed up, 15–18 minutes. Let cool on the baking sheets for 5–10 minutes before serving.
Enjoy!