Corn & Chorizo Stuffing
This tasty stuffing features spicy chorizo sausage and sweet corn for a unique twist on a classic Thanksgiving side dish.
May 04, 2023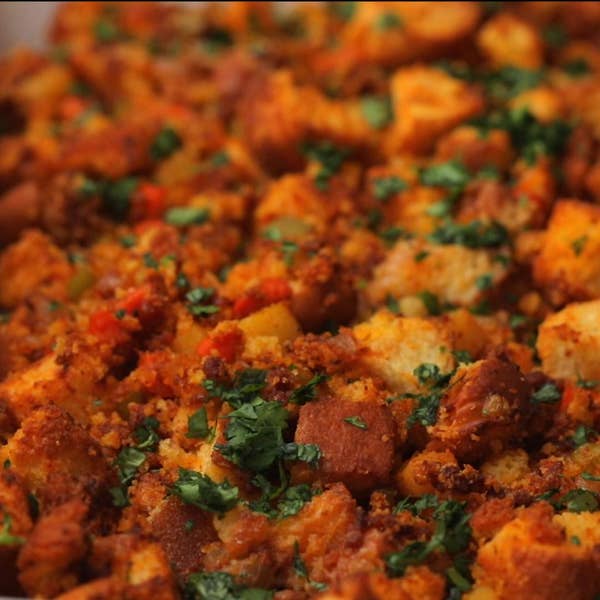 Ingredients
for 8 servings
Cornbread
1 cup yellow cornmeal

(150 g)

½ cup all-purpose flour

(60 g)

¾ teaspoon salt
1 tablespoon baking powder
½ teaspoon baking soda
2 eggs
1 cup buttermilk

(240 mL)

½ cup milk

(120 mL)

1 tablespoon honey
3 tablespoons unsalted butter, melted and divided
Stuffing
1 prepared cornbread, cut into small cubes
1 pack hawaiian sweet roll, cut into small cubes
1 cup fresh chorizo

(140 g)

1 cup waxy potato

(225 g)

, diced small
1 rib celery, diced small
½ cup carrot

(60 g)

, diced small
4 cloves garlic, miced
1 medium onion, minced
1 cup poultry stock

(240 mL)

4 tablespoons butter
1 bunch fresh cilantro, minced
salt
pepper
Preparation
Preheat oven to 400°F (200°C).
To make the cornbread, place the cornmeal in a large bowl and sift in the flour, salt, baking powder and baking soda, and whisk to combine.
In a separate bowl, beat together the eggs, buttermilk, milk and honey.
Whisk the cornmeal mixture into the liquid mixture. Do not overwork the batter.
Use a tablespoon of the melted butter to grease a 9" (23 cm) baking pan. Whisk the rest of the melted butter into the batter just until combined. Bake 35-40 mins until tester comes out clean. Set aside to cool.
Turn oven down to 350°F (180°C).
In a cast iron pan, brown the chorizo until the fat is rendered out. Remove chorizo from pan and set aside. Remove half of the fat from the pan and discard.
In the same chorizo pan, add potatoes, onions, carrots, celery, garlic and saute until soft and caramelized.
Place the cubed cornbread and Hawaiian rolls on a baking sheet in a single layer. Toast in the oven until golden brown.
In a large bowl, mix together chorizo and cooked vegetables. Carefully mix in stock, adding in increments until moist but not wet to avoid mushy stuffing. Season to taste with salt and pepper.
Place stuffing in a baking dish and top with a few slices of butter, place in the oven and bake for about 15 minutes.
Garnish with chopped cilantro and serve immediately.
Enjoy!
Don't let a good recipe slip away. Download the Tasty app and save your favorites for easy access.