Crackling Crust Roast Pork With Mojo
This crispy, citrusy roast pork will be the star of your dinner table. The pork shoulder is marinated in a Cuban-inspired mojo sauce, baked for hours until tender, then broiled for that crispy, crackly skin. Pro tip: use a sharp knife to score the pork skin. This will help any excess fat render out during cooking, as well as allow those mojo flavors to really penetrate the meat!
November 07, 2021
Total Time
6 hr 40 min
6 hr 40 min
Cook Time
6 hr 10 min
6 hr 10 min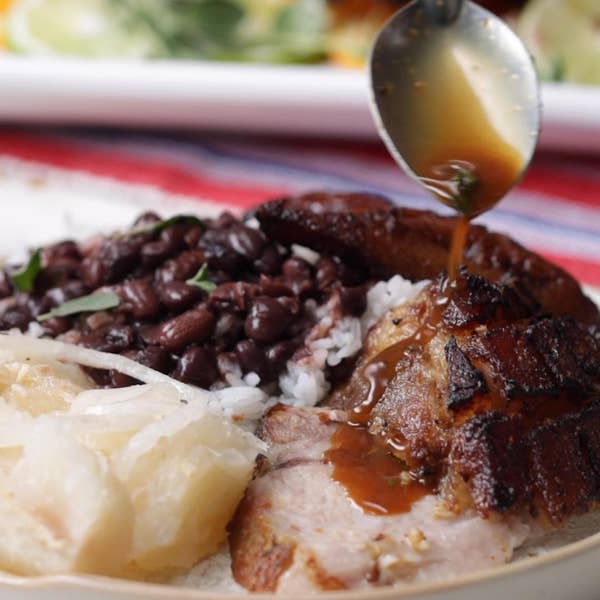 Total Time
6 hr 40 min
6 hr 40 min
Cook Time
6 hr 10 min
6 hr 10 min
Ingredients
for 8 servings
1 pork shoulder, bone-in, skin-on
24 cloves garlic
2 tablespoons kosher salt
½ cup olive oil

(120 mL)

¼ cup fresh oregano

(25 g)

, plus 1 tablespoon, finely chopped, divided
1 tablespoon ground cumin
2 oranges, zested
2 limes, zested
2 cups fresh lime juice

(480 mL)

1 ½ cups fresh orange juice

(360 mL)
Nutrition Info
Calories

224

Fat

16g

Carbs

20g

Fiber

41g

Sugar

9g

Protein

4g
Estimated values based on one serving size.
Preparation
Preheat the oven to 350°F (180°C) .
Using a sharp knife, score the pork skin and fat in a diamond pattern, spacing the cuts ½ inch apart and taking care not to cut into the meat.
Combine the garlic and salt in a food processor and pulse until the garlic is finely chopped. Add the olive oil, whole oregano leaves, cumin, and orange and lime zests and process into a smooth paste.
Rub the paste all over the pork shoulder, making sure it gets into the scores. Transfer the pork shoulder to a baking dish or a roasting pan and pour the lime and orange juices around the pork. Cover the baking dish with foil.
Bake until an instant-read thermometer inserted into the center of the pork registers between 180°F (82°C) and 190°F (88°C), 6–7 hours. Remove the pork from the oven and turn on the broiler.
Uncover the pork and turn the oven to broil. Return the pork to the oven and broil until the skin puffs and is golden brown and crisp, 10–15 minutes. Transfer the pork to a cutting board and let rest for 20 minutes.
Meanwhile, pour the pan juices into a small saucepan and bring to a boil over high heat. Cook until reduced slightly, about 10 minutes. Remove the sauce from the heat and pour through a fine-mesh strainer into a small bowl. Skim off the fat, if desired. Stir the finely chopped oregano into the sauce.
Serve the pork shoulder with the sauce and your favorite side dishes.
Enjoy!
Your favorite recipes are just a click away. Download the Tasty app to save and organize your favorites.