Cubano Pies As Made By Vivian Hernandez-Jackson
Celebrate Latinx Heritage Month with a rich, tangy, crunchy Cubano pie as made by bakery owner Vivian Hernandez-Jackson. Pickles, Cuban-style roasted pork, and a crunchy pastry shell make this a perfect, portable pastry.
October 06, 2020
Prep Time
25 minutes
25 min
Cook Time
10 hr 35 min
10 hr 35 min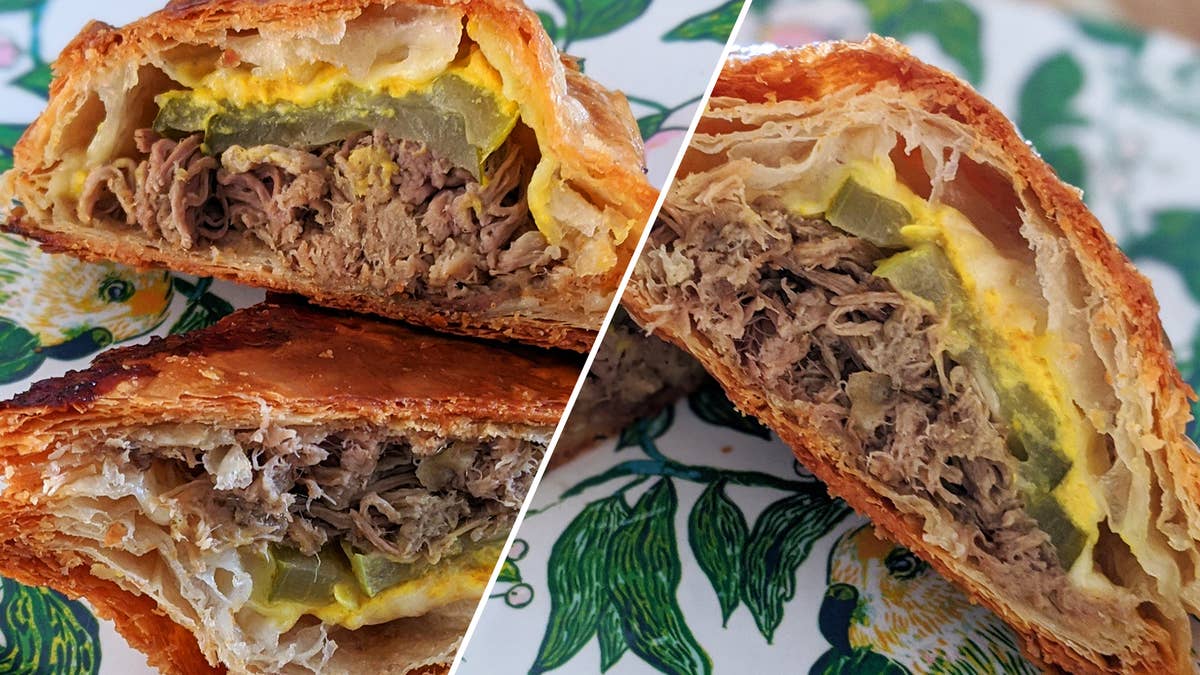 Prep Time
25 minutes
25 min
Cook Time
10 hr 35 min
10 hr 35 min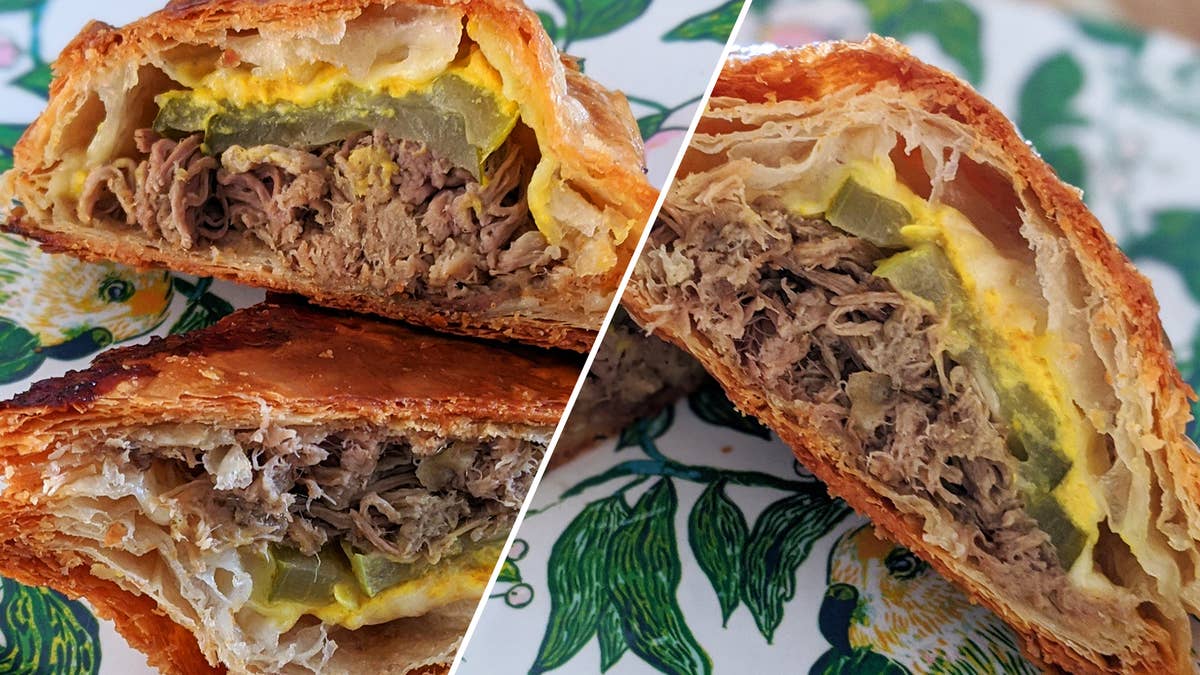 Ingredients
for 9 servings
Cuban-Style Pork
1 tablespoon ground cumin
1 tablespoon dried oregano
1 tablespoon kosher salt
1 tablespoon sazon seasoning
1 lb boneless pork shoulder

(455 g)

1 bottle mojo marinade
1 cup water

(240 mL)
Cubano Pies
2 sheets frozen puff pastry, thawed, divided
18 dill pickle chips
¼ cup yellow mustard

(60 g)

5 slices swiss cheese, halved
1 large egg, beaten
1 cup water

(240 mL)

1 cup sugar

(200 g)

1 cinnamon stick
Preparation
Make the Cuban-style pork: Preheat the oven to 300°F (150°C).
In a small bowl, mix together the cumin, oregano, salt, and Sazón.
Place the pork shoulder in a 9 x 13-inch (22 x 33 c,m) ( baking dish. Sprinkle the spice mixture all over, then pour the mojo marinade and water on top.
Cover the baking dish tightly with foil. Transfer the pork to the oven and bake for 10 hours, until extremely tender and the liquid has reduced.
Drain the liquid from the pan into a bowl and set aside. Using 2 forks, shred the pork, discarding any fatty bits. Pour the reserved braising liquid over the pork and toss until well combined. You should have about 4 cups. The pork will keep in an airtight container in the refrigerator until ready to use, up to 4 days.
Make the cubano pies: Preheat the oven to 350°F (180°C). Line 2 baking sheets with parchment paper.
Lay 1 sheet of puff pastry on a clean surface and use a knife or pizza cutter to mark 9 squares.
Scoop 3 heaping tablespoons of Cuban-style pork onto each square (save the leftover pork for another use). Top each portion with 2 pickle slices, a drizzle of yellow mustard, and a half slice of Swiss cheese.
Gently lay the remaining sheet of puff pastry over the pork mounds. Use your fingers to press the dough together around the edges, then between the squares. Using a knife or pizza cutter, cut through to make 9 individual squares.
Transfer the pies to the prepared baking sheets. Brush the tops with the beaten egg.
Bake for 25–35 minutes, until deep golden brown and firm.
Meanwhile, combine the water, sugar, and cinnamon stick in a small saucepan. Bring to a boil over medium-high heat and cook for 3 minutes, until the sugar is fully dissolved. Remove the pot from the heat.
Remove the Cubano pies from the oven and immediately brush with the cinnamon syrup. Serve warm.
Enjoy!
Hate losing that perfect recipe? Save and organize recipes easily on the Tasty app. Download now.