Deep-Fried Ice Cream
These ice cream bombs are worth the wait! Delicious vanilla ice cream is wrapped inside canned biscuit dough, then deep fried to create a crunchy-on-the-outside, creamy-on-the-inside frozen treat. Don't forget the garnishes for extra decadence!
October 14, 2020
Total Time
6 hr 15 min
6 hr 15 min
Cook Time
10 minutes
10 min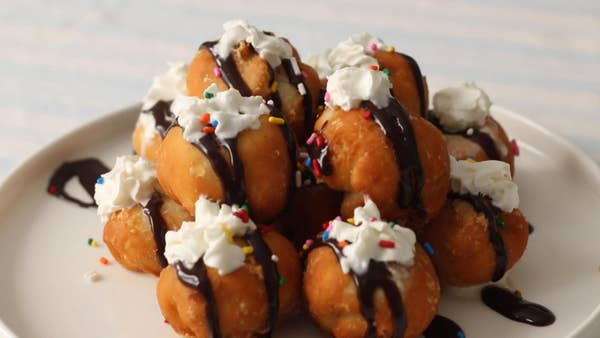 Total Time
6 hr 15 min
6 hr 15 min
Cook Time
10 minutes
10 min
Ingredients
for 12 servings
1 pt vanilla ice cream

(475 g)

6 unbaked canned biscuits
all purpose flour, for dusting
6 cups canola oil

(1.4 g)

, for frying
chocolate syrup, for serving
whipped cream, for serving
sprinkles, for serving
Preparation
Line a baking sheet with wax paper.
Use a 1-tablespoon scoop to portion 12 ice cream balls onto the prepared baking sheet. Freeze for at least 4 hours, or overnight.
Cut the biscuits in half, then roll out each half on a lightly floured surface into a thin round.
Working quickly, add a frozen ice cream ball to the center of each dough round. Wrap the dough around the ice cream to seal tightly. Set on the baking sheet. Repeat with the remaining dough and ice cream.
Freeze the biscuit balls for 1–2 hours, until firm.
Heat the canola oil in a large pot over medium-high heat until it reaches 325°F (160°C).
Working 4 at a time, add the biscuit balls to the hot oil and cook until golden brown and crunchy, 2–3 minutes. Transfer to a paper towel-lined baking sheet to drain.
Transfer the fried balls to the freezer for another hour, until firm.
To serve, arrange the fried ice cream balls on a plate and top with chocolate syrup, whipped cream, and sprinkles.
Enjoy!
Your favorite recipes are just a click away. Download the Tasty app to save and organize your favorites.