Deep Fried Pecan Pie
Whether you have leftover pie, or just want to turn your Thanksgiving dessert spread WAY up, this deep fried pecan pie is the stuff sweet dreams are made of. Our Basic Pecan Pie is sliced and frozen, then dipped in pancake batter and fried to golden brown perfection.
November 03, 2019
Total Time
14 hr 15 min
14 hr 15 min
Prep Time
45 minutes
45 min
Cook Time
1 hr 10 min
1 hr 10 min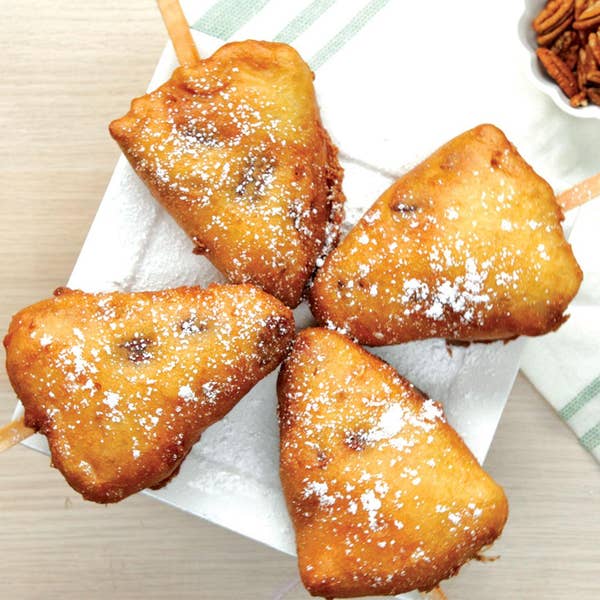 Total Time
14 hr 15 min
14 hr 15 min
Prep Time
45 minutes
45 min
Cook Time
1 hr 10 min
1 hr 10 min
Ingredients
for 8 servings
Pie Crust
2 cups all purpose flour

(250 g)

, plus more for dusting
1 pinch kosher salt
1 ¼ sticks unsalted butter
2 large egg yolks
4 tablespoons ice water
Pecan Pie
2 cups pecan

(250 g)

, halves, divided
¾ cup light corn syrup

(180 g)

3 large eggs
1 cup granulated sugar

(200 g)

1 teaspoon vanilla extract
2 tablespoons melted butter
½ teaspoon kosher salt
For Frying
8 cups vegetable oil

(1.9 mL)

4 cups prepared pancake batter

(460 g)

¼ cup powdered sugar

(30 g)

, for dusting
Special Equipment
dried bean
8 popsicle sticks
Preparation
Make the crust: Sift the flour and salt together into a large bowl.
Using only your fingertips, pinch the cubes of butter into the flour, breaking up the butter as you go, until no large lumps remain.
Mix the egg yolks and ice water together in a small bowl with a fork until evenly combined.
Add the liquid to the flour mixture, reserving a quarter or so in case you don't need all of it--you don't want the pastry to be too wet. Quickly mix everything together with a fork until the dough just starts to come together. Add more liquid to the driest parts of the dough if needed. The dough is ready when it holds together in a ball when squeezed in your palm.
Transfer the dough to a clean surface and bring together in a disc. Wrap the dough disc in plastic wrap and chill in the refrigerator for at least 30 minutes, or up to 4 days.
Preheat the oven to 350°F (180°C).
Lightly flour a clean surface and unwrap the disc of chilled dough. Flour the top of the dough. Using a rolling pin, push down on the dough, giving it a quarter turn every few smushes, to spread the dough evenly and ensure it doesn't stick to the surface.
Start to roll out the dough, continuing to turn. If any cracks form, smush them back together. Roll out the dough to a circle about ⅛-inch (3 mm) thick and place into a 9-inch (22 cm) pie dish, trimming any excess dough around the edges. Crimp the edges in a decorative pattern.
Place a piece of parchment in the center of the pie crust and add the pie weights or dried beans. 10. Bake for 15 minutes, until lightly golden brown.
Make the filling: In a large bowl, whisk together 1½ cups pecans, corn syrup, eggs, sugar, vanilla, melted butter, and salt.
Carefully lift the parchment with the pie weights from the par-baked pie crust, then pour in the filling. Top with the remaining ½ cup (60 G) of pecans in concentric circles.
Return the pie to the oven for 20 minutes, then cover with a piece of foil and continue baking for 40 minutes, until the filling is completely set. Let the pie cool completely.
Cut the pie into 8 equal slices and carefully insert a popsicle stick into the crust side of each slice, using a small paring knife to make an incision if needed. Place the pie slices on a parchment-lined baking sheet and freeze overnight, or until solid.
Heat the vegetable oil in a large heavy-bottomed pot until it reaches 350°F (180°C).
Working in batches, dip the slices of pie into the prepared pancake batter, then carefully transfer to the hot oil and fry for 4 minutes, or until golden brown.
Finish with a dusting of powdered sugar and serve warm.
Enjoy!
Don't just wing it -- plan it! Use our meal planner tool in the Tasty app. Download here.