Dijon-Crusted Pork Tenderloin Honey-Glazed Carrots
This recipe pairs juicy, tender pork tenderloin with sweet glazed carrots for a delicious and satisfying meal.
May 05, 2023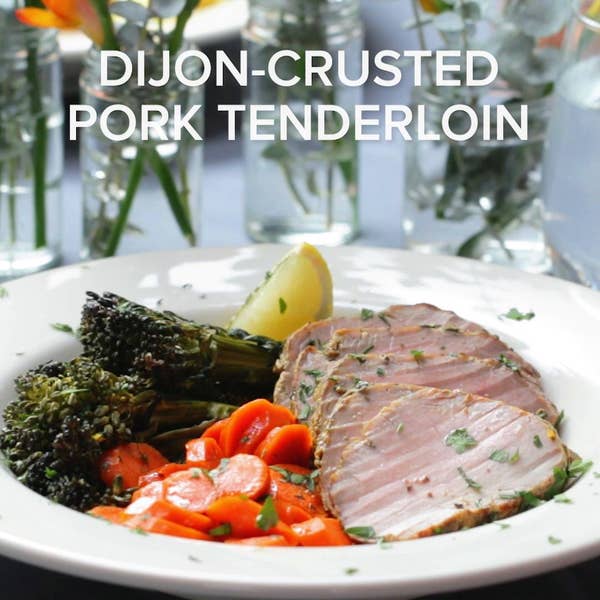 Ingredients
for 4 servings
3 tablespoons dijon mustard
2 teaspoons fresh thyme, finely chopped
2 teaspoons fresh rosemary, finely chopped
½ teaspoon kosher salt, plus more to taste
½ teaspoon ground black pepper, plus more to taste
1 ½ lb pork tenderloin

(680 g)

3 tablespoons olive oil, divided
2 bunches broccolini, woody stems removed
8 medium carrots, cute into ½-inch (1-cm) coins
2 tablespoons honey
1 lemon, cut into 4 wedges
fresh parsley, chopped, for garnish
Nutrition Info
Calories

392

Fat

15g

Carbs

32g

Fiber

8g

Sugar

17g

Protein

33g
Estimated values based on one serving size.
Preparation
Preheat the oven to 375°F (190˚C).
In a small bowl, stir together the mustard, thyme, rosemary, salt, and pepper.
Dry the pork tenderloin thoroughly with paper towels, then season with salt and pepper.
Heat 2 tablespoons of olive oil in a square pan over medium-high heat. Add the tenderloin and cook, rotating 90˚ every 3-4 minutes, until golden brown all over (the tenderloin will not be cooked through at this point), about 12 minutes total. Remove the pan from the heat and use tongs to transfer the tenderloin to a cutting board.
Brush the mustard mixture evenly over the top and sides of the tenderloin.
Add the broccolini to the pan, and toss with the oil until coated evenly. Push the broccolini to the sides of the pan, just enough to make room for the tenderloin, then return the pork to the pan.
Transfer the pan to the oven and roast, tossing the broccolini halfway through cooking, until an instant-read thermometer inserted in the thickest part of the pork reads 160°F (70˚C) and the broccolini is tender, 23-25 minutes.
While the pork cooks, heat the remaining tablespoon of olive oil in a medium skillet over medium-high heat. Add the carrots, season with salt and pepper, and cook, tossing, until barely tender, about 6 minutes.
Drizzle with the honey and continue cooking, tossing often, until the honey is reduced to a thick glaze and the carrots are tender, 2 to 4 minutes more. Remove the skillet from the heat.
Transfer the square pan to a rack and let the pork and broccolini rest for 10 minutes. Place the tenderloin on a cutting board and cut into ½-inch (1-cm) thick slices.
Divide the pork and vegetables among 4 serving plates. Serve each with a lemon wedge and sprinkle with parsley.
Enjoy!