Espresso Martini Cheesecake For 2
Words cannot espresso how much you'll fall head over heels for these cheesecakes. Enjoy them with your valentine, galentine, or treat yourself to both because #selflove. If you're feeling fancy, we recommend topping your cheesecakes with fresh berries and chocolate-covered espresso beans.
August 14, 2023
Total Time
2 hr 10 min
2 hr 10 min
Prep Time
10 minutes
10 min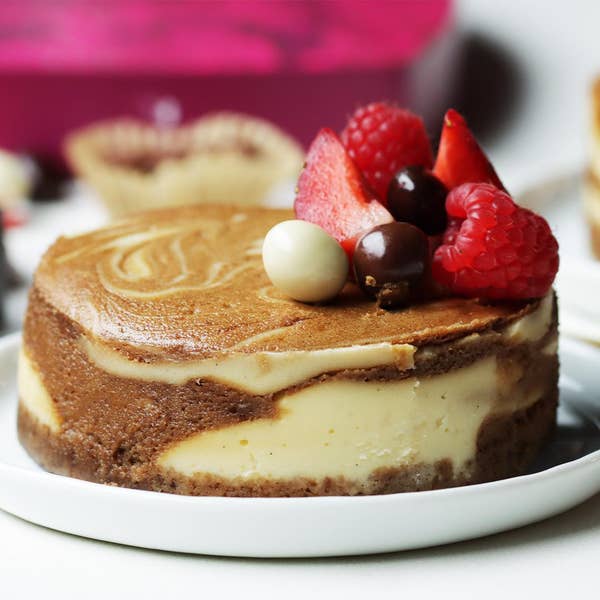 Total Time
2 hr 10 min
2 hr 10 min
Prep Time
10 minutes
10 min
Ingredients
for 2 cheesecakes
nonstick cooking spray, for greasing
2 oz vanilla cookies

(55 g)

⅓ cup granulated sugar

(65 g)

, divided, plus 1 teaspoon plus 2 tablespoons
1 tablespoon instant espresso, divided, plus 1 teaspoon
3 tablespoons unsalted butter, melted
8 oz cream cheese

(225 g)

, softened
2 tablespoons heavy cream
¼ cup mascarpone

(50 g)

1 tablespoon all purpose flour
1 pinch kosher salt
¼ inch vanilla bean, seeds scraped
1 large egg, room temperature
1 tablespoon boiling water, plus more for baking
fresh berry, for serving
Chocolate-covered espresso bean, for garnish
SPECIAL EQUIPMENT
2 springform pans, 4-inch
Nutrition Info
Calories

1016

Fat

83g

Carbs

57g

Fiber

5g

Sugar

42g

Protein

14g
Estimated values based on one serving size.
Preparation
Preheat the oven to 350˚F (180˚C). Grease 2 4-inch springform pan with nonstick spray. Line the bottom of the pans with parchment paper rounds and spray again. Wrap the outsides of the pans tightly with foil.
In the bowl of a food processor, combine the vanilla cookies, 1 teaspoon sugar, 1 teaspoon instant espresso, and the melted butter. Pulse to combine until the texture is similar to wet sand.
Divide the cookie crumbs between the prepared pans and use a small, flat-bottomed cup to press into an even layer against the bottoms.
Bake the crusts until golden brown, 3–5 minutes. Remove from the oven and let cool to room temperature.
In a large bowl, combine the cream cheese and ⅓ cup of sugar. Using a stiff rubber spatula or wooden spoon, mix until smooth and creamy, about 2 minutes. Add the heavy cream and stir to combine. Add the mascarpone, flour, salt, and vanilla bean seeds and continue mixing until completely smooth. Add the egg and mix until fully combined, smooth, and creamy.
In a medium bowl, combine the remaining 2 tablespoons granulated sugar, remaining tablespoon of instant espresso, and 1 tablespoon boiling water. Use a whisk to vigorously whip until thick and creamy, about 3 minutes.
Add half of the cream cheese mixture to the espresso cream and gently fold to combine.
Scoop some of the plain cream cheese filling over each cooled crust, followed by some of the espresso filling. Continue alternating until all of the filling is used. Use a knife or skewer to swirl the batters together.
Place the springform pans in a small, high-walled baking dish and pour in boiling water to reach a depth of ½ inch, taking care not to splash any water onto the cheesecakes. Carefully transfer the baking dish to the oven. Bake until the cheesecakes are almost firm, with the slightest jiggle in the centers, about 25 minutes. Turn off the oven and let the cheesecakes rest inside with the door closed for 30 minutes.
Remove the springform pans from the baking dish and unwrap the foil. Place the cheesecakes in the refrigerator uncovered for 1 hour.
Release the springform pans. Transfer the cheesecakes to plates and garnish with berries and chocolate-covered espresso beans.
Enjoy!
Cook smarter, not harder. Use our AI chef Botatouille on the Tasty app. Download now.