Freak Show Funnel Cakes
Bring the carnival home this Halloween season with these freak show-inspired "blood red" and "cobweb" funnel cakes. Finish them off with your favorite critter candies for an extra-spooky touch!
August 14, 2023
Total Time
50 minutes
50 min
Prep Time
10 minutes
10 min
Cook Time
35 minutes
35 min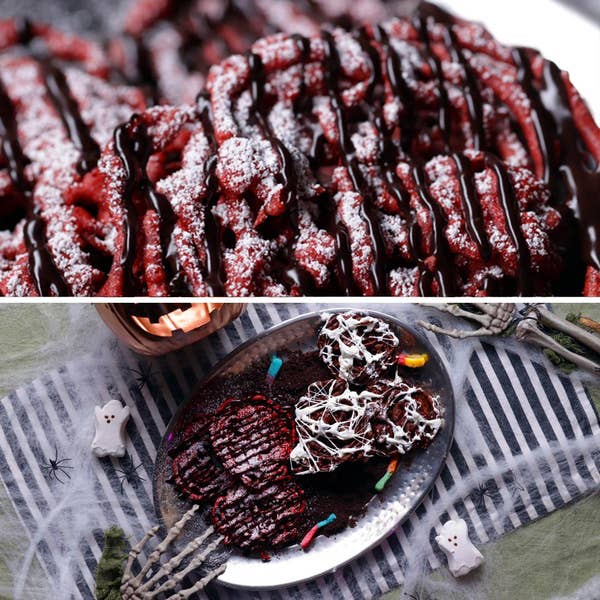 Total Time
50 minutes
50 min
Prep Time
10 minutes
10 min
Cook Time
35 minutes
35 min
Ingredients
for 8 servings
Funnel Cakes
3 cups neutral oil

(720 mL)

, such as canola or vegetable
2 large eggs, room temperature
1 ½ cups whole milk

(360 mL)

, room temperature
1 teaspoon McCormick® vanilla extract
2 cups all purpose flour

(250 g)

3 tablespoons granulated sugar
1 teaspoon baking powder
1 teaspoon kosher salt
2 ½ tablespoons dark cocoa powder, divided
4 drops red food coloring
¼ cup powdered sugar

(25 g)

9 marshmallows
Chocolate Sauce
8 oz semisweet chocolate

(225 g)

, roughly chopped
1 cup heavy cream

(240 mL)

1 tablespoon black food coloring
1 tablespoon black cocoa powder
For Serving
1 cup finely crushed chocolate sandwich cookies

(100 g)

12 gummy worms
Special Equipment
deep fry thermometer
small sieve
funnel
2 squeeze bottles
spider
Preparation
Make the funnel cakes: In a large Dutch oven or deep pot fitted with a deep fry thermometer, heat the neutral oil over medium-high heat until the temperature reaches 375°F (190°C) (the oil should be no more than 1½ inches deep). Set a wire rack on top of a baking sheet. Preheat the oven to 250°F (120°C).
In a large bowl or liquid measuring cup, whisk together the eggs, milk, and vanilla until well combined.
In a medium bowl, whisk together the flour, granulated sugar, baking powder, and salt.
Add the dry ingredients to the wet ingredients and whisk until well combined. Divide the batter evenly between 2 medium bowls.
Sift 2 tablespoons of cocoa powder into one bowl and whisk until combined. Add the red food coloring to the remaining bowl, then sift in the remaining ½ tablespoon of cocoa powder and whisk until combined. Using a funnel, transfer each batter to a squeeze bottle.
Make the chocolate sauce: Add the chocolate to a medium heat-proof bowl.
Microwave the cream on high power for 2 minutes, until just starting to bubble.
Pour the hot cream over the chocolate and let sit for 2 minutes. Add the black food coloring and sift in the dark cocoa powder, then stir until melted and smooth. Cover with plastic wrap, pressing directly against the surface to prevent a skin from forming, and let sit at room temperature until ready to use. Microwave in 10-seconds intervals if needed to loosen before using.
Fry the funnel cakes: Working with one batter at a time, squeeze the batter into the hot oil in a squiggly circle motion to make a 4-inch round funnel cake. Squeeze in 1–2 more funnel cakes; do not overcrowd the pot. Fry for 1–2 minutes on each side, until slightly darker in color, then use a spider to transfer from the oil to the wire rack. Transfer to the oven to keep warm while you fry the remaining funnel cakes.
When ready to serve, spread the crushed chocolate sandwich cookies on a serving platter. Place the gummy worms around the edges of the platter, nestling into the crushed cookies. Set the funnel cakes on top of the cookie crumbs. Dust the red funnel cakes with ¼ cup powdered sugar, then drizzle with the chocolate sauce using a spoon or squeeze bottle.
In a medium microwave-safe bowl, microwave the marshmallows for 12–15 seconds, until nearly doubled in size. Using gloved hands, pick up the melted marshmallows and stretch them over each black funnel cake to create a "web".
Enjoy!
Don't just wing it -- plan it! Use our meal planner tool in the Tasty app. Download here.