Fried Brie Sticks With Blueberry Bourbon Jam
Take snack time to the next level with these fried Brie sticks! Creamy Brie cheese is cut into sticks, coated in crushed butter crackers, and fried to golden brown perfection. Double-coating the Brie sticks helps ensure no cheese escapes during frying, while freezing the breaded sticks prior to frying helps them hold their shape. Serve with homemade blueberry bourbon jam and bacon jam for the perfect savory-sweet balance.
August 14, 2023
Total Time
1 hr 10 min
1 hr 10 min
Prep Time
10 minutes
10 min
Cook Time
30 minutes
30 min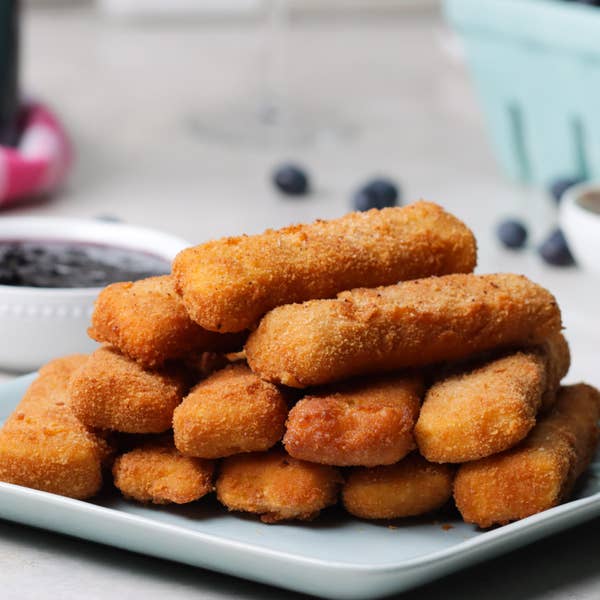 Total Time
1 hr 10 min
1 hr 10 min
Prep Time
10 minutes
10 min
Cook Time
30 minutes
30 min
Ingredients
for 4 servings
Blueberry Maple Bourbon Sauce
1 cup blueberry jam

(320 g)

¼ cup maple syrup

(85 g)

¼ cup water

(60 mL)

3 tablespoons bourbon
½ teaspoon vanilla extract
⅛ teaspoon kosher salt
1 pinch freshly ground black pepper
Brie Sticks
2 wheels brie cheese
60 butter crackers
3 large eggs, beaten
1 cup all purpose flour

(125 g)

4 cups vegetable oil

(960 mL)

, for frying
kosher salt, to taste
Included in this Recipe
Bacon Jam Hacks
Preparation
Make the blueberry maple bourbon sauce: In a small saucepan, stir together the blueberry jam, maple syrup, and water. Bring to a simmer over medium heat and cook until slightly thickened, about 5 minutes. Add the bourbon and continue simmering for 1–2 minutes, until the alcohol cooks off. Remove the pot from heat and stir in the vanilla, salt, and pepper. Set aside until ready to serve. If making ahead of time, cover and refrigerate for up to 1 month. Re-warm before serving.
Make the Brie sticks: Line a baking sheet with parchment paper.
Cut each Brie wheel into ½-inch-wide sticks. Transfer to the prepared baking sheet and refrigerate while you prepare the breading station.
Add the butter crackers to a food processor and process into fine, uniform crumbs. Transfer to a wide, shallow bowl.
Add the eggs and flour to 2 separate wide, shallow bowls.
Dredge each Brie stick in the flour to coat completely. Coat in the egg, ensuring there are no visible dry spots, then roll in the cracker crumbs to coat. Dip again in the eggs and cracker crumbs. Freeze the Brie sticks for at least 30 minutes, up to overnight.
Heat the vegetable oil in a wide, shallow pan over medium heat until the temperature reaches 375˚F (190˚C). Set a wire rack over a baking sheet.
Working in batches to avoid overcrowding the pan, fry the Brie sticks in the hot oil until golden brown, 1–2 minutes. Transfer to the wire rack and immediately sprinkle with salt.
Serve the Brie sticks hot with the warm blueberry maple bourbon sauce and bacon jam alongside for dipping.
Enjoy!
All your favorite recipes, stored in one place. Download the Tasty app and never lose a recipe again.