Fried Chicken And Waffles As Made By Breana Jackson
This iconic dish of flavorful, crispy fried chicken paired with fluffy, buttery waffles is a match made in culinary heaven. The homemade spice mix takes this chicken to a whole new level–you will be making it in batches to have on hand for years to come! The deep spices in the chicken are offset by the rich browned-butter waffles that only get better when drizzled with syrup and hot sauce for a sweet and spicy finish.
February 09, 2021
Prep Time
10 minutes
10 min
Cook Time
45 minutes
45 min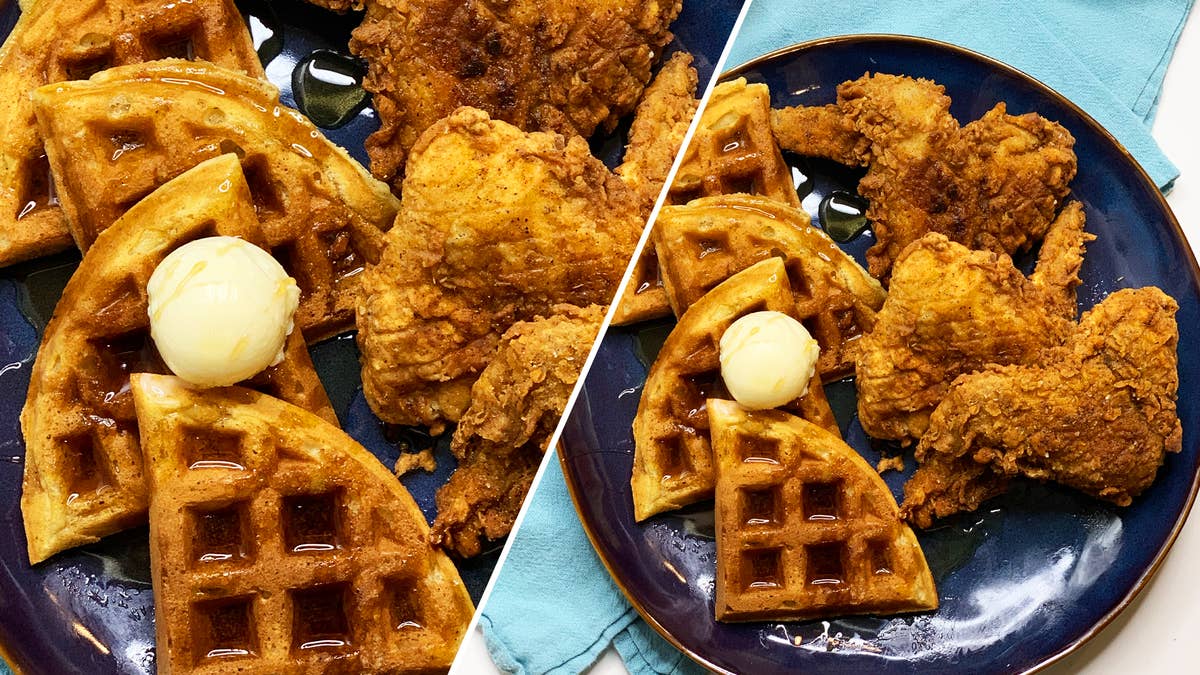 Prep Time
10 minutes
10 min
Cook Time
45 minutes
45 min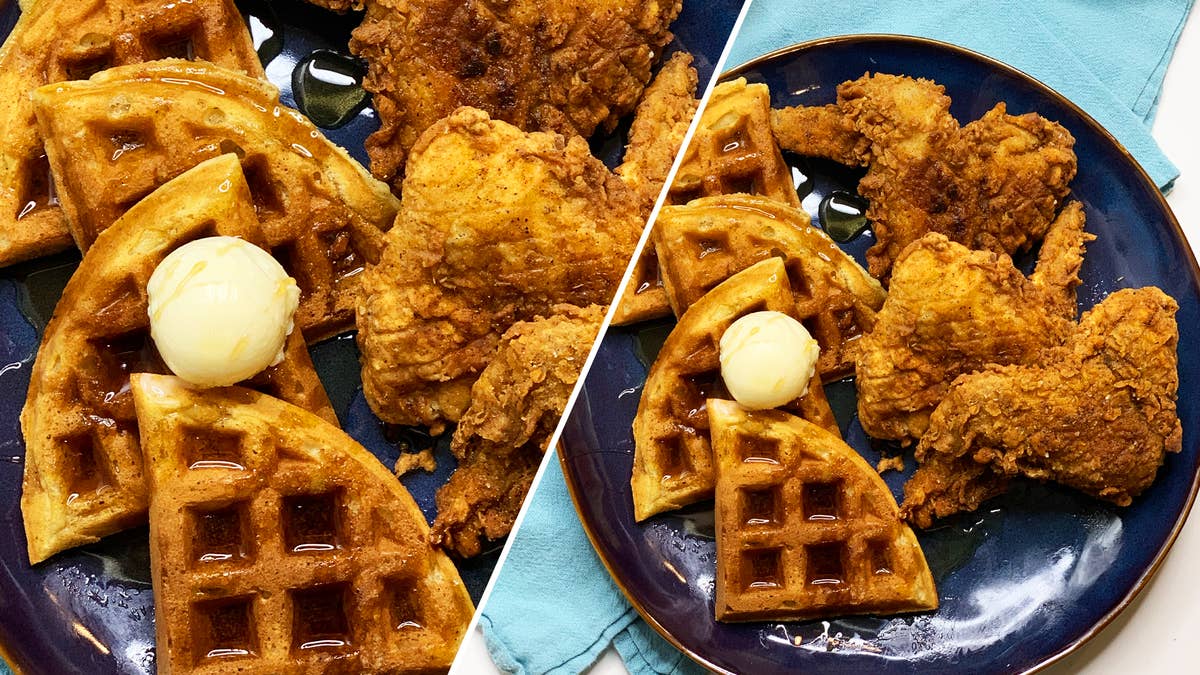 Ingredients
for 3 servings
Fried Chicken
4 cups buttermilk

(1 L)

, or water
4 tablespoons kosher salt, plus a pinch, divided
8 chicken wings
peanut oil, or grapeseed oil, for frying
1 tablespoon onion powder
1 tablespoon McCormick® Smoked Paprika
1 tablespoon McCormick® Garlic Powder
1 ½ tablespoons McCormick® ground black pepper
1 tablespoon McCormick® Poultry Seasoning
1 tablespoon cayenne pepper
1 teaspoon McCormick® Ground Mustard
2 cups all purpose flour

(250 g)

¼ cup cornstarch

(30 g)

2 large eggs
1 cup buttermilk

(240 mL)

, room temperature
1 teaspoon hot sauce, of choice
Buttermilk Waffles
1 ½ sticks unsalted butter
2 ice cubes
2 cups all purpose flour

(250 g)

3 tablespoons sugar
2 teaspoons baking powder
1 teaspoon baking soda
1 pinch kosher salt
2 cups buttermilk

(480 mL)

, room temperature
2 large eggs
1 tablespoon McCormick® vanilla extract
nonstick cooking spray, for greasing
For Topping (Optional)
unsalted butter
maple syrup
hot sauce
Nutrition Info
Calories

1479

Fat

45g

Carbs

196g

Fiber

7g

Sugar

37g

Protein

69g
Estimated values based on one serving size.
Preparation
Brine the chicken: In a large bowl or container, combine the buttermilk and 2 tablespoons of salt. Add the chicken to the brine, making sure to submerge fully. Cover and refrigerate for at least 2 hours, or overnight. When ready to use, remove the chicken wings from the brine and pat dry with paper towels. Transfer to a wire rack set over a baking sheet.
Preheat the oven to 300°F (150°C).
Fill a large cast iron skillet ¾ of the way with peanut oil and heat over medium-high heat until the temperature reaches 350°F (180°C).
In a small bowl, whisk together 2 tablespoons salt, the onion powder, paprika, garlic powder, black pepper, poultry seasoning, cayenne, and ground mustard until well combined.
Transfer all but 2 tablespoons of the spice mixture to a medium bowl with the flour and cornstarch and whisk until well combined.
In a separate medium bowl, whisk together the eggs, buttermilk, hot sauce, and a pinch of salt until well combined.
Coat a chicken wing in the flour mixture, shaking off any excess, then dip in the buttermilk mixture, letting any excess drip off. Coat again in the flour mixture, pressing the flour into the chicken. Return the coated chicken to the wire rack and repeat with the remaining wings.
Working with 2–3 wings at a time, fry the chicken in the hot oil until golden brown and the internal temperature reaches 160-165°F (70-75°C). Remove the chicken from the oil, sprinkle on both sides with a pinch of the reserved spice mix, then set on a clean wire rack set over a baking sheet to cool. Repeat with the remaining chicken. When finished frying, transfer the chicken to the oven to keep warm until ready to serve.
Make the waffles: Melt the butter in a medium nonstick saucepan over medium-high heat. Cook, stirring occasionally, until the butter turns dark brown and smells nutty, between 7-10 minutes. Watch carefully and focus on color, so the butter does not burn, aiming from brown not black bits. Remove the pot from the heat.
Add an ice cube to the butter and slowly let it melt. It may froth and bubble. Add the remaining ice cube and gently stir until melted. Pour ½ cup of the browned butter into a liquid measuring cup or heatproof bowl and let cool completely, about 5 minutes. Store any remaining browned butter in the refrigerator for another use.
Preheat a waffle iron to medium-high heat.
In a large bowl, whisk together the flour, sugar, baking powder, baking soda, and salt.
In a medium bowl or large liquid measuring cup, whisk together the buttermilk, browned butter, eggs, and vanilla until well combined.
Pour the wet ingredients into the dry ingredients and whisk until just combined, being careful not to overmix. Let the batter sit for 5–7 minutes while the leavening agents activate.
Grease the waffle iron with nonstick spray, then cook the waffles according to the manufacturer's instructions. You should have about 6 total, depending on the waffle iron. Set the waffles on a baking sheet as they finish cooking and transfer to the oven with the chicken to keep warm until ready to serve.
To serve, place a waffle on each plate (either whole or cut into 4 pieces) and set 2–3 wings on top of or next to each waffle. Top the waffles with butter, maple syrup, and/or hot sauce, if desired. Serve hot.
Any leftover waffles can be wrapped individually in plastic wrap, then placed in a zip-top bag and stored in the refrigerator for up to 2 days.
Enjoy!
Cook smarter, not harder. Use our AI chef Botatouille on the Tasty app. Download now.