Fried Chicken By Marcus Samuelsson
Sink your teeth into this crispy, juicy fried chicken prepared by chef Marcus Samuelsson. The marinade of buttermilk and spices creates a perfectly balanced tangy and savory taste that will have you licking your fingers.
May 05, 2023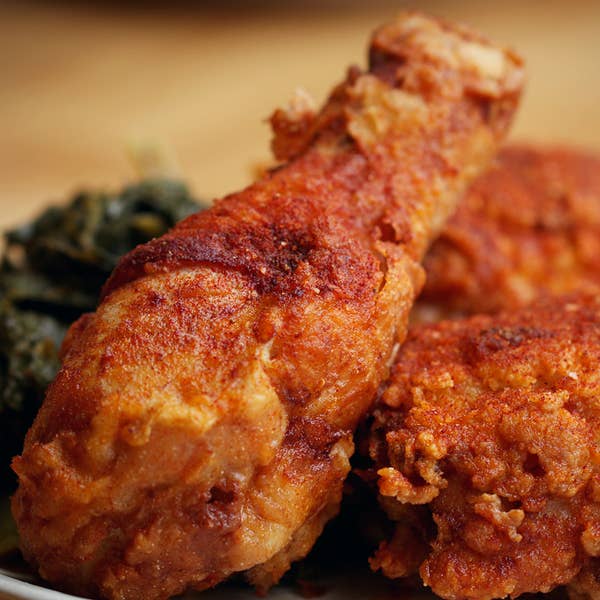 Ingredients
for 8 servings
2 cups water

(470 mL)

1 cup coarse kosher salt

(240 g)

6 cups cold ice water

(1 ½ L)

4 chicken thighs
4 chicken drumsticks
2 cups buttermilk

(470 mL)

¾ cup coconut milk

(175 mL)

2 cloves garlic, minced
2 cups all-purpose flour

(250 g)

¼ cup semolina flour

(40 g)

2 tablespoons cornstarch
1 tablespoon white pepper
3 cups peanut oil, for frying
Chicken Shake
¼ cup berbere

(30 g)

¼ cup hot smoked paprika

(30 g)

2 tablespoons ground cumin
2 tablespoons white pepper
2 tablespoons celery salt
1 ½ teaspoons granulated garlic
1 ½ teaspoons coarse kosher salt
Nutrition Info
Calories

1106

Fat

92g

Carbs

40g

Fiber

3g

Sugar

3g

Protein

29g
Estimated values based on one serving size.
Preparation
In a medium saucepan over high heat, add 2 cups (470 ml) of water and the salt. Bring to a simmer, stirring to dissolve all the salt. Remove from heat and pour into a larger pot/container.
Add the ice water into the pot to cool. Add the chicken, cover, and refrigerate for 1 ½ hours.
Prepare the chicken shake. In a small bowl, whisk together all the chicken shake ingredients.
NOTE: Makes about 1 cup (110g) that will keep for 6 months. Store in a jar out of the light.
In a 9x13-inch (23x33 cm) baking dish, add buttermilk, coconut milk, and garlic.
Add 1 tablespoon of chicken shake and whisk together.
Remove the chicken from the saltwater, dab on paper towels to remove excess liquid, then add into the buttermilk marinade. Roll to coat each piece. Cover and refrigerate overnight.
Fill a large cast iron pan ⅔-full with peanut oil over medium-high heat. Heat to 360˚F (182˚C).
While the oil is heating, coat the marinated chicken. In a large bowl, whisk together the all-purpose flour, semolina flour, cornstarch, and white pepper.
Remove the chicken from the marinade, allowing any excess to drip off, then roll in the flour mixture, packing it on so the chicken is completely coated.
Set coated chicken on a wire rack over a baking sheet. If the coating looks damp, roll it in the flour mixture again.
Working in batches, fry the chicken until it is brown and golden on both sides and reaches an internal temperature of 165˚F (73˚C), about 10 minutes per batch. NOTE: Adjust heat to keep the oil between 350-375˚F (180-190˚C).
Drain on a rack set over a baking sheet. Rest 8-10 minutes.
Fry the chicken a second time, only for about 3 minutes, to really crisp up the skin. Drain on a rack.
Sprinkle with additional chicken shake.
Enjoy!