Ginger Turmeric Chicken Soup
December 28, 2021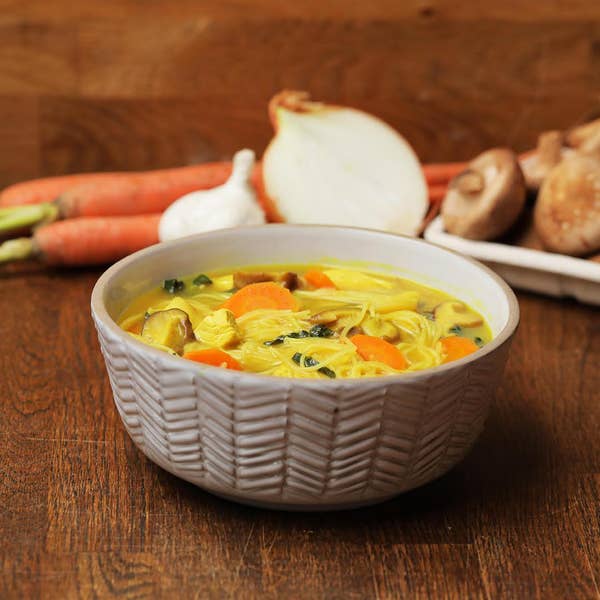 Ingredients
for 6 servings
4 cups water

(1 L)

1 ½ lb Simple Truth® Chicken Breasts

(655 g)

2 bay leaves
1 teaspoon whole black peppercorn
1 teaspoon kosher salt, plus more to taste
1 ½ tablespoons olive oil
1 small yellow onion, diced
2 medium carrots, sliced 1/4 (6 mm) think on the bias
1 ¾ cups shiitake mushroom

(110 g)

, sliced
2 cloves garlic, minced
5 teaspoons grated fresh ginger
1 ½ teaspoons ground ginger
1 teaspoon ground turmeric
2 sprigs fresh rosemary
1 cup dinosaur kale

(40 g)

8 cups chicken stock

(1.6 L)

¼ lb angel hair pasta

(105 g)

, broken crosswise into thirds
freshly ground black pepper, to taste
This recipe isn't available to shop.
Unfortunately, not all our recipes can be shopped through Tasty.
Preparation
In a medium pot, bring the water to a simmer, about 5 minutes. Add the Simple Truth® Chicken Breasts, bay leaves, whole black peppercorns, and salt. Cook until the internal temperature of the chicken reaches 165°F (75°C), about 15 minutes. Remove the chicken from the poaching liquid and transfer to a cutting board. Let cool enough to handle, then dice into ¾" pieces.
In a large pot, heat the olive oil over medium-low heat. Add the onion and sauté until translucent, about 2 minutes. Add the carrots and mushrooms, and cook until softened, about 3 minutes. Add the garlic and fresh ginger, and cook until fragrant, 30–45 seconds. Add the ground ginger, turmeric, rosemary, and kale. Stir to combine for 30 seconds, then pour in the chicken stock. Bring to a simmer and cook for 10–15 minutes.
Increase the heat to medium-high to bring the soup to a boil, then add the angel hair pasta and diced Simple Truth® Chicken Breasts. Cook according to the package instructions until the pasta is tender. Season with salt and pepper to taste.
Serve warm.
Enjoy!