Gingerbread Crème Brûlée
Rich, creamy custard meets some of your favorite holiday flavors–cinnamon, cloves, allspice, and nutmeg–in this festive twist on a classic dessert. When ready to serve, set a 3-inch gingerbread man cut-out on top of each crème brûlée and dust with powdered sugar, then remove to reveal a deliciously perfect design.
December 22, 2020
Total Time
5 hr 45 min
5 hr 45 min
Prep Time
15 minutes
15 min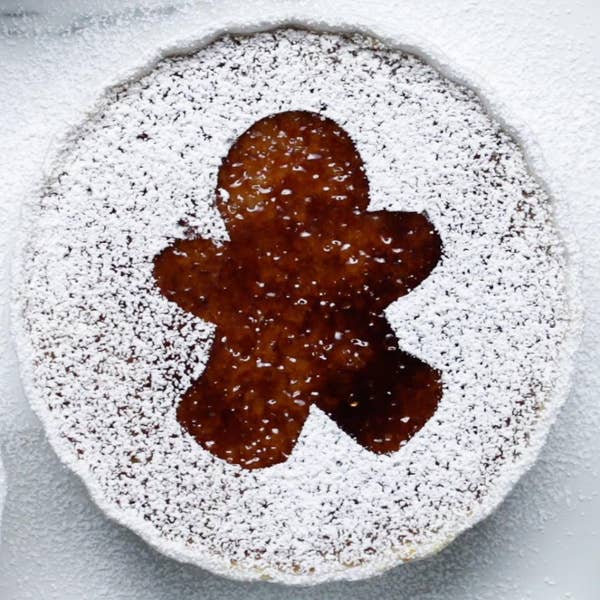 Total Time
5 hr 45 min
5 hr 45 min
Prep Time
15 minutes
15 min
Ingredients
for 6 servings
1 qt heavy cream

(1 L)

2 whole cinnamon sticks
1 teaspoon ground cloves
1 teaspoon ground allspice
¼ teaspoon freshly ground black pepper
½ teaspoon freshly grated nutmeg
1 tablespoon ground ginger
7 large egg yolks
12 tablespoons granulated sugar, divided
¼ cup light brown sugar

(25 g)

1 tablespoon molasses
boiling water, for baking
powdered sugar, for dusting
Special Equipment
6 ramekins, 6 ounce
culinary blow torch, optional
gingerbread man parchment paper cut-out, 3 in (8 cm)
Nutrition Info
Calories

688

Fat

65g

Carbs

32g

Fiber

0g

Sugar

30g

Protein

13g
Estimated values based on one serving size.
Preparation
Preheat the oven to 325°F (160°C).
Add the cream, cinnamon sticks, cloves, allspice, black pepper, nutmeg, and ginger to a medium pot and whisk to combine. Turn the heat to medium-low and bring to just below a boil, about 200°F (95°C), about 10 minutes. The cream should start to bubble around the edges of the pan. Remove the pot from the heat, cover, and steep the spices for 20 minutes.
Meanwhile, add the egg yolks, 6 tablespoons granulated sugar, the brown sugar, and molasses to a large bowl. Whisk until the sugar dissolves. The mixture will be a golden honey color and should fall off the whisk in ribbons.
Set a fine-mesh sieve over a 4-cup liquid measuring cup or medium bowl and strain the cream mixture to remove the solids.
Slowly pour the strained cream into the egg yolk mixture, adding only a little at first to temper the eggs, whisking continuously until well incorporated. Use a spoon to skim any excess foam that may have accumulated on the surface.
Line a high-walled baking dish with a small dish towel or 1–2 paper towels to prevent the ramekins from sliding in the dish. Set 6 6-ounce ramekins in the dish. Ladle the custard into each ramekin, filling almost completely.
Carefully pour enough boiling water into the pan to come halfway up the sides of the ramekins, taking care not to splash any water into the custard.
Transfer the baking dish to the oven. Bake for 45–55 minutes, or until the custard is set around the edges of the ramekins but still jiggles in the center when shaken. The custard will continue to set as it cools.
Remove the baking dish from the oven and let the custards cool in the water bath until safe to handle, about 20 minutes. Transfer the custards to the refrigerator to set completely, at least 4 hours, or overnight.
Sprinkle 1 tablespoon of granulated sugar over the surface of each custard. Using a blow torch, caramelize the sugar until golden brown and hardened (it is okay if it darkens more in some areas). (Alternatively, set the ramekins on a baking sheet and broil on high for 3–4 minutes, until the sugar is golden brown and hardened.) Let the crème brûlées cool for 10 minutes.
Set a 3-inch gingerbread man parchment paper cut-out on top of a crème brûlée and dust with powdered sugar. Remove the cutter and repeat with the remaining crème brûlées. Serve immediately after dusting.
Enjoy!
Don't just wing it -- plan it! Use our meal planner tool in the Tasty app. Download here.