Gooey Custard Cheesecake
This custard cheesecake is the perfect blend of sweet and creamy, with a gooey, custard-like filling and a crunchy, buttery crust. It's a crowd-pleaser for any dessert lover!
May 14, 2023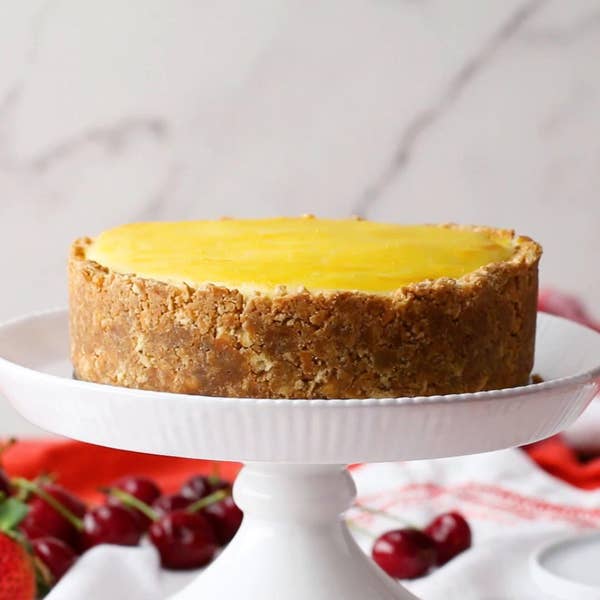 Ingredients
for 4 servings
Cheesecake Bottom
5 oz biscuit cookie

(140 g)

3 oz melted butter

(85 g)

2 tablespoons milk
Custard
2 egg yolks
¼ cup granulated sugar

(50 g)

1 cup milk

(240 mL)

1 tablespoon cornstarch
7 oz cream cheese

(200 g)

1 egg, whisked
Preparation
Place cookies in a ziplock bag and crush with a wooden spoon until the cookies have fully become crumbs. Put them in a bowl. Add melted butter and milk, and mix well.
In a buttered 15-centimeter (6-inch) pie pan, add the crust mixture and press firmly to form an even layer. Chill in the fridge for about 30 minutes.
In a microwave-safe bowl, add the egg yolks and sugar. Whisk until pale. Add milk, vanilla, and cornstarch, and mix well. Microwave for 3 minutes and whisk after every minute.
Add the cream cheese to the custard. Whisk until smooth.
Add the custard batter into the chilled crust. Chill in the fridge for 30 minutes.
Preheat oven to 320˚F/160˚C.
Brush egg wash on top of the cake. Bake in the oven for 20 minutes.
Once the cake is cool to the touch, serve immediately. The cake will have gooey texture while it is warm.
Enjoy!
Cook smarter, not harder. Use our AI chef Botatouille on the Tasty app. Download now.