Grilled Cauliflower Tacos
These cauliflower tacos are spiced to perfection and oh so satisfying. Cauliflower is marinated in a zesty, savory blend of lime juice, brown sugar, and tons of spices, then grilled to charred perfection. To build the tacos, layer the cauliflower on warm tortillas with plenty of the creamy, smoky poblano-pepita sauce, cabbage, cilantro, and crema.
August 14, 2023
Total Time
2 hr 15 min
2 hr 15 min
Prep Time
20 minutes
20 min
Cook Time
1 hr 25 min
1 hr 25 min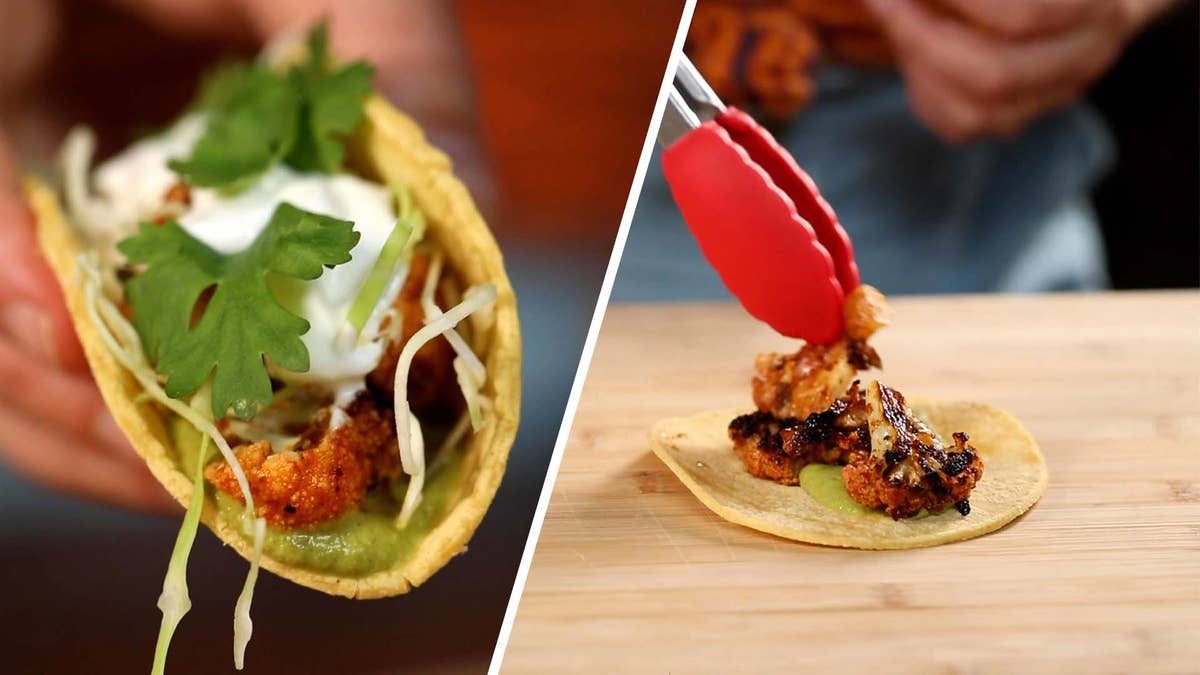 Total Time
2 hr 15 min
2 hr 15 min
Prep Time
20 minutes
20 min
Cook Time
1 hr 25 min
1 hr 25 min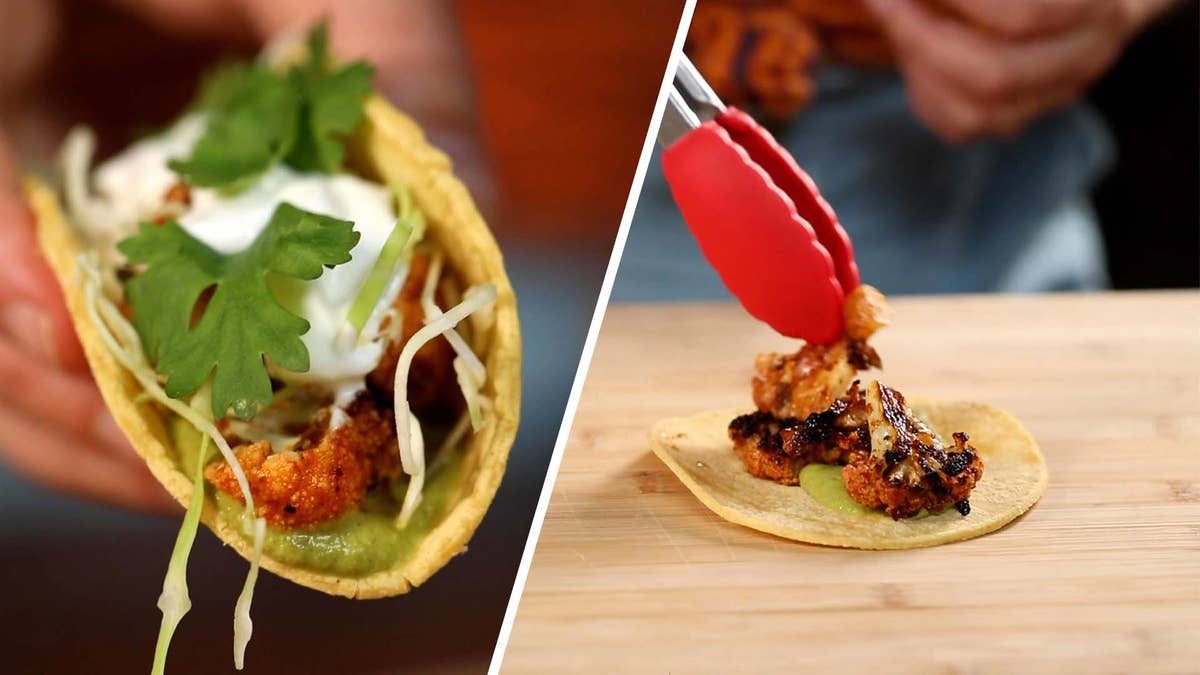 Ingredients
for 6 servings
Grilled Cauliflower
⅓ cup avocado oil

(45 g)

, plus more for grilling
¼ cup fresh lime juice

(60 mL)

2 tablespoons light brown sugar
2 teaspoons ground cumin
1 tablespoon dried oregano
2 teaspoons paprika
½ teaspoon chipotle powder
1 teaspoon chili powder
1 teaspoon garlic powder
1 ½ teaspoons kosher salt
2 small heads of cauliflower, stems trimmed, cut into 1/2-inch-wide slabs
Poblano-Pepita Sauce
4 poblano peppers
5 cloves garlic
2 medium jalapenoes
2 tablespoons avocado oil, divided
½ cup raw pepitas

(60 g)

¾ cup cilantro leaves and tender stems

(30 g)

, roughly chopped
¼ cup fresh lime juice

(60 mL)

1 ½ teaspoons kosher salt
1 tablespoon cold water, optional
For Serving
12 corn tortillas, warmed
thinly sliced green cabbage
fresh cilantro
mexican crema
Lime wedge
Nutrition Info
Calories

349

Fat

23g

Carbs

32g

Fiber

22g

Sugar

5g

Protein

6g
Estimated values based on one serving size.
Preparation
Preheat the oven to 350°F (180°C).
In a wide, shallow dish, combine the avocado oil, lime juice, brown sugar, cumin, oregano, paprika, chipotle powder, chile powder, garlic powder, and salt and whisk well. Add the cauliflower to the dish and coat each piece thoroughly with the marinade. Cover and refrigerate while you prepare the poblano-pepita sauce, or for up to 2 hours.
On a rimmed baking sheet, toss the poblanos, garlic, and jalapeños with 1 tablespoon of avocado oil. Roast for 30 minutes, or until the skin is beginning to pull away from the flesh of the peppers and the garlic is soft and golden brown. Add the pepitas to the pan and return to the oven for another 5–8 minutes, until beginning to brown.
Transfer the poblanos, jalapeños, and garlic to a medium bowl and cover with a plate or plastic wrap. Set aside to cool for 30 minutes.
Once cool enough to handle, carefully remove the skins, stem, and seeds from the poblanos and skins and stems from the jalapeños (remove the seeds too, if desired, for a more mild sauce, or keep them in for a little more heat). Peel the garlic.
Add the poblanos, jalapeños, garlic, pepitas, cilantro, remaining tablespoon of avocado oil, the lime juice, and salt to a blender. Blend on high speed until completely smooth. If the sauce is very thick, add cold water, 1 tablespoon at a time, until the consistency is smooth and spreadable. Transfer to a serving bowl and set aside until ready to serve. Alternatively, cover and refrigerate until ready to serve.
Grill the cauliflower: Brush a cast-iron griddle pan with avocado oil and turn the heat to high. When the pan starts to smoke, add a few pieces of the marinated cauliflower. Grill for 7–8 minutes, until the cauliflower lifts easily from the pan and grill marks are visible. Flip and grill for another 4–5 minutes on the other side, until the cauliflower is easily pierced with a fork. Repeat with the remaining cauliflower.
Transfer the cauliflower to a cutting board and roughly chop into ½-inch pieces. Discard any slightly tough or undercooked pieces of stem.
Assemble the tacos: Spread about 1 tablespoon of the poblano-pepita sauce across a warm tortilla and top with cauliflower, cabbage, cilantro, and crema. Serve with lime wedges alongside.
Store any leftover poblano-pepita sauce in the refrigerator for up to 5 days. It can be served with eggs, in rice bowls, or tossed with grilled shrimp or your favorite protein.
Enjoy!
All your favorite recipes, stored in one place. Download the Tasty app and never lose a recipe again.