Grilled Cheese & Candied Maple Bacon Skewers
May 19, 2021
Total Time
40 minutes
40 min
Cook Time
35 minutes
35 min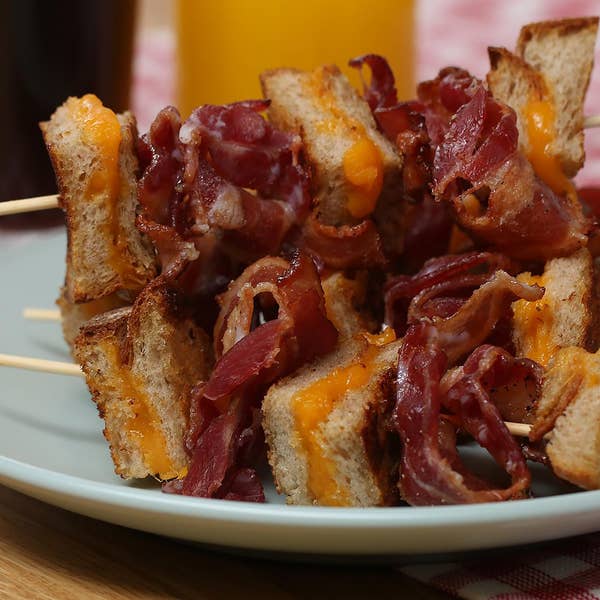 Total Time
40 minutes
40 min
Cook Time
35 minutes
35 min
Ingredients
for 2 servings
Grilled Cheese
4 sourdough bread slices
2 tablespoons unsalted butter
4 cheddar cheese slices
Candied Maple Bacon
8 bacon strips
½ cup maple syrup
⅓ cup brown sugar
black pepper, to taste
Nutrition Info
Calories

1272

Fat

67g

Carbs

89g

Fiber

1g

Sugar

62g

Protein

53g
Estimated values based on one serving size.
Preparation
Preheat the oven to 400°F (200°C), and double line a large baking sheet with aluminum foil fitted with a wired rack; set aside.
In a small mixing bowl add maple syrup and brown sugar, then mix until combined with no lumps.
Place bacon strips evenly on the wired rack and generously brush maple syrup mixture over the top of the bacon and bake for 12 to 15 minutes. Remove from the oven, flip each strip and brush on the remaining mixture. Return to the oven and continue to cook for another 8-10 minutes or until it reaches your desired level of crispiness, then garnish with coarse black pepper.
Heat a skillet over medium heat. Butter one side of each slice of bread. Place the buttered side down on the skillet, add 2 slices of cheddar cheese then top with the remaining slice of bread, buttered side out.
Cook until bread is toasted and golden and cheese starts to melt, about 2 minutes. Flip, and cook until cheese melty and bread toasted and golden. Remove from heat, and set aside for 5 mins.
Cut each grilled cheese sandwich into even 1.5x1.5-inch squares, set aside.
Assemble each skewer starting with a grilled cheese square, then bacon strip, alternating until the end by spiralling the bacon strip in-between each square until finished. Serve and enjoy!