Grilled Peppercorn Chicken Skewers
August 14, 2023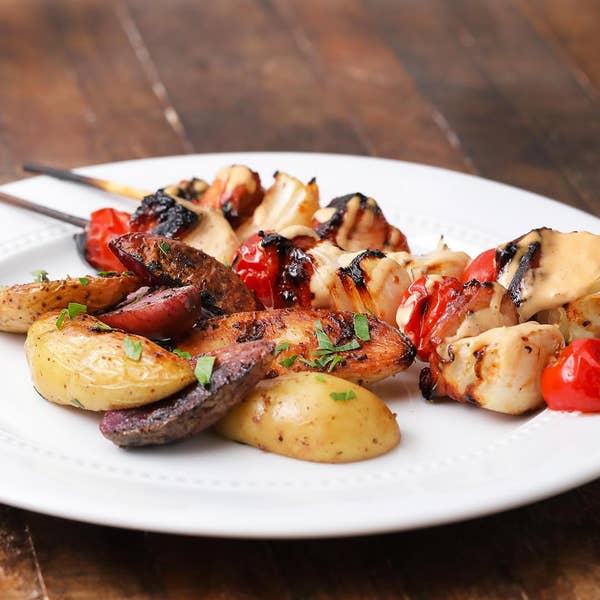 Ingredients
for 4 servings
Chicken Skewers
1 ½ lb boneless skinless chicken thighs

(650 g)

, cut into 1 in (2.54 cm) pieces
1 jar Private Selection® 5 Peppercorn Blend Barbecue Sauce
1 Private Selection™ Peruvian Gold Sweet Onion, cut into 1 in (2.54 cm) wedges
1 package Private Selection™ Ruby Rows™ Cherry On-The-Vine Tomatoes
Private Selection® Creamy Smoked Jalapeño Sauce, for drizzling
Grilled Potatoes
1 bag Private Selection™ Fingerling Potatoes
2 tablespoons canola oil, plus more for brushing grill
½ teaspoon kosher salt
½ teaspoon freshly ground black pepper
2 tablespoons fresh parsley, roughly chopped
Special Equipment
8 skewers, stainless steel, wood or bamboo
This recipe isn't available to shop.
Unfortunately, not all our recipes can be shopped through Tasty.
Preparation
Marinate the chicken: Place the chicken in a large bowl. Pour the Private Selection® 5 Peppercorn Blend Barbecue Sauce over the chicken and toss to coat. Cover the bowl with plastic wrap and place in the refrigerator to marinate for 30–45 minutes.
If using wooden or bamboo skewers, place in a large shallow dish and cover with water. Let soak while the chicken marinates.
Prep the potatoes: Cut any large fingerling potatoes in half lengthwise so the potatoes are mostly uniform in size. Pierce any whole potatoes with a fork. Place the potatoes on a large piece of heavy-duty foil (or 2 pieces of regular foil). Add the oil, salt, and pepper and toss to coat. Gather edges of foil together and crimp to seal and create a packet for grilling.
Thread 1–2 pieces of marinated chicken, 1 Private Selection™ Peruvian Gold Sweet Onion wedge, and 1 Private Selection™ Ruby Rows™ Cherry On-The-Vine Tomatoes onto a skewer. Repeat with the remaining ingredients until all of the skewers are full.
Prepare a grill for medium heat and lightly oil the grates. Add the potato packet to the grill and cook, until the potatoes are tender, 15–25 minutes (depending on the size of potatoes). Once the potatoes have been on the grill for 5 minutes, add the chicken skewers and cook for 10–15 minutes, turning once, until cooked through and the internal temperature of the chicken reaches 160°F (71°C).
When the potatoes are finished cooking, unwrap the foil packet and garnish with parsley.
Drizzle chicken skewers with Private Selection® Creamy Smoked Jalapeño Sauce, and serve with potatoes.
Enjoy!