Grilled Salmon With Lemon-Sesame Sauce
Savor the smoky flavors of this Grilled Salmon with Lemon Sesame Sauce, perfect for a light and refreshing dinner. With a zesty lemon twist and a nutty sesame finish, this dish is sure to impress your taste buds.
August 14, 2023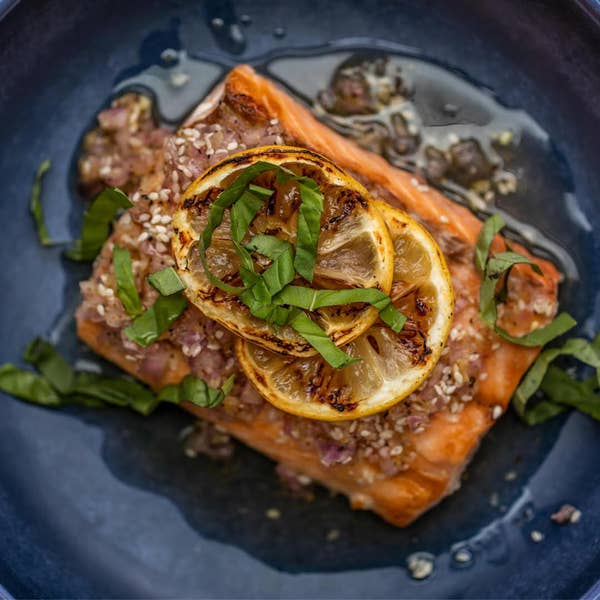 Ingredients
for 2 servings
2 Walmart® Fresh Antibiotic-Free Salmon portions
2 tablespoons olive oil
2 teaspoons kosher salt
1 lemon, sliced into ¼–½-inch rounds
2 tablespoons fresh basil, sliced into ribbons
Lemon-Sesame Sauce
1 shallot, minced
1 large lemon, zested
1 large lemon
1 ½ teaspoons honey
2 tablespoons sesame oil
1 tablespoon olive oil
2 teaspoons sesame seeds
½ teaspoon kosher salt
½ teaspoon freshly ground black pepper
Preparation
Heat a grill to medium-high heat.
Coat the Walmart® Fresh Antibiotic-Free Salmon portions with the olive oil and sprinkle the salt evenly on both sides. Set aside.
Make the lemon-sesame sauce: In a small bowl, combine the shallot, lemon zest and juice, honey, sesame oil, olive oil, sesame seeds, salt, and pepper and whisk until well combined.
Place the lemon slices on the grill and cook for 60–90 seconds on each side, until charred. Remove from the grill and set aside.
Place the salmon fillets, skin-side down, on the grill. Cook with the lid closed for 5–6 minutes, then flip and cook for another 1–2 minutes, or until the salmon is cooked through and has lightly charred grill marks on the flesh side.
Place the salmon fillets skin-side down on a serving platter and spoon half the sauce over each fillet. Garnish with the charred lemon slices and basil.
Enjoy!