Grilled Steak And Mushroom Flatbread
Fire up the grill for this mouthwatering Grilled Steak and Mushroom Flatbread that's perfect for sharing! With tender steak, juicy mushrooms, and a sprinkle of cheese, this flatbread will have everyone coming back for seconds.
August 17, 2023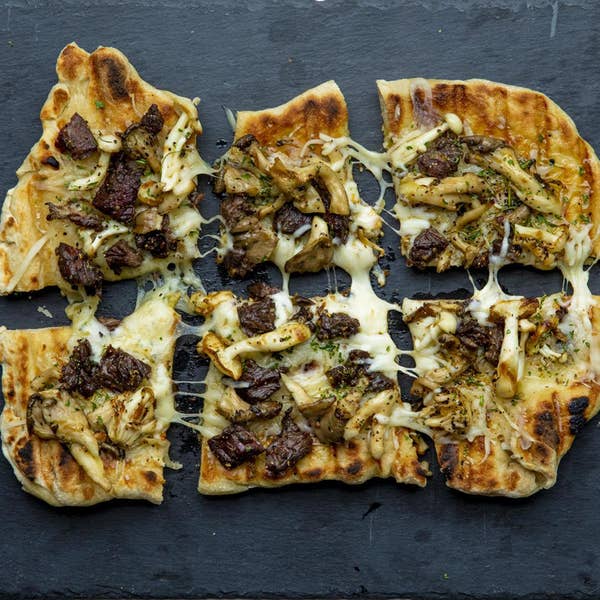 Ingredients
for 2 servings
1 lb pizza dough

(425 g)

1 bunapi mushroom bunch, roots trimmed
3 medium oyster mushrooms
½ cup olive oil

(120 mL)

, divided
¼ lb beef flat iron steak

(105 g)

1 ½ tablespoons Grill Mates® Montreal Steak Seasoning, plus more for garnish
1 cup shredded mozzarella cheese

(100 g)

⅓ cup shredded parmesan cheese

(40 g)

½ teaspoon McCormick® Dried Parsley
This recipe isn't available to shop.
Unfortunately, not all our recipes can be shopped through Tasty.
Preparation
Preheat the grill to 350°F (180°C).
Roll the pizza dough out to ½ inch (1.24 cm) thick in your desired shape and place on a baking sheet. Brush ¼ cup (60 ml) olive oil over both sides of the dough.
Break apart the bunapi and oyster mushrooms into thick chunks. Transfer to a small bowl and toss with 2 tablespoons of olive oil and ½ tablespoon Grill Mates® Montreal Steak Seasoning.
Slice the flat iron steak into ½-inch-thick strips. Transfer to a medium bowl and toss with 1½ tablespoons of olive oil and the remaining 1 tablespoon Grill Mates® Montreal Steak Seasoning.
Arrange the steak strips on one side of the grill. Cook until light pink in the center, 3–4 minutes per side. Arrange the mushrooms on the other side of the grill and cook until lightly browned around the edges and tender, about 2 minutes per side. Transfer the steak and mushrooms to a cutting board. Break apart some of the mushrooms and chop the steak strips into smaller, bite-size pieces.
Place the oiled pizza dough directly on the grill grates. Close the lid and grill for about 4 minutes, until the bottom is light browned and cooked through. Flip the pizza dough and sprinkle with the mozzarella and Parmesan cheeses. Scatter the mushrooms and steak on top of the cheese. Sprinkle with more Grill Mates® Montreal Steak Seasoning. Close the lid and cook for another 5 minutes, until the cheese is melted and the pizza dough is cooked through.
Remove the flatbread from the grill and top with the McCormick® Dried Parsley and remaining ½ tablespoon olive oil. Serve immediately.
Enjoy!