Grilled Steak With Scallion And Cilantro Sauce
Fire up the grill for this mouthwatering Grilled Steak with Scallion and Cilantro Sauce! The succulent steak is perfectly complemented by the zesty, herbaceous sauce, making it a must-try for your next cookout.
August 14, 2023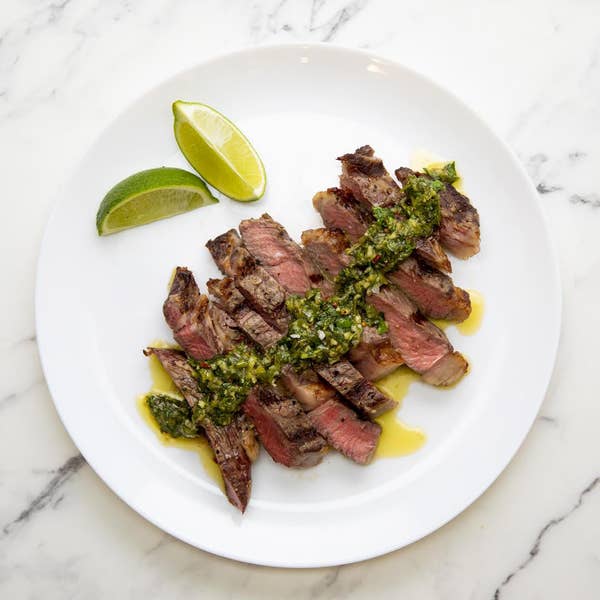 Ingredients
for 2 servings
nonstick cooking spray, for greasing
2 teaspoons kosher salt, divided, plus more to taste
1 ¼ teaspoons freshly ground pepper, divided
2 Walmart USDA Choice Angus Beef Ribeye steaks
¾ cup fresh cilantro leaves

(30 g)

¼ cup fresh parsley leaves

(10 g)

4 scallions, sliced
2 cloves garlic
½ jalapeño, stemmed, seeded, and chopped
¼ teaspoon red pepper flakes
½ cup extra virgin olive oil

(120 mL)

, divided
2 tablespoons red wine vinegar
1 teaspoon lime juice
Preparation
Heat the grill to medium-high and lightly grease the grates.
Rub the steaks all over with 1½ teaspoons of salt and 1 teaspoon of black pepper.
Make the cilantro sauce: Add the cilantro, parsley, scallions, garlic, and jalapeño to a food processor and pulse until the herbs are coarsely chopped. Add the remaining ½ teaspoon salt, remaining ¼ teaspoon pepper, the red pepper flakes, ¼ cup olive oil, the red wine vinegar, and lime juice and puree on high speed for 20–30 seconds, until the herbs are evenly chopped. Transfer the sauce to a medium bowl and stir in the remaining ¼ cup olive oil. Season with more salt to taste.
Place the steaks on the preheated grill and cook, uncovered, for 4½–5 minutes per side for medium, or until the steaks are cooked to your liking/depending on the thickness of the steaks. Let the steaks rest for 5–7 minutes, then slice against the grain.
Fan the steak slices on a serving platter and spoon the cilantro scallion sauce on top.
Enjoy!