Guinness Short Rib Chili
November 19, 2020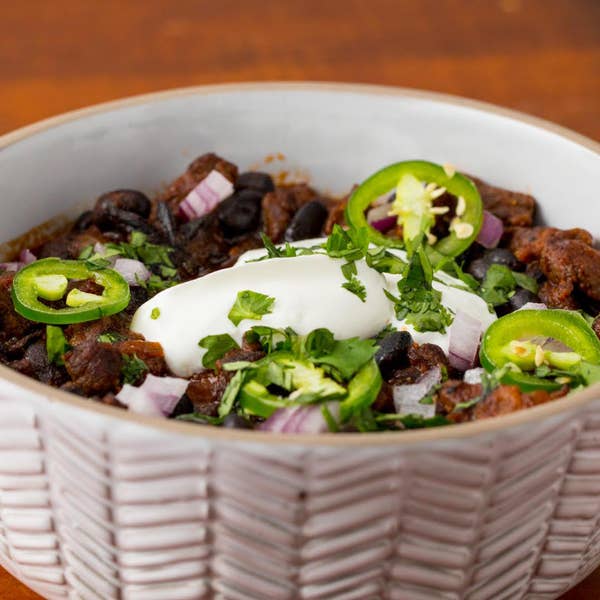 Ingredients
for 4 servings
2 lb boneless short ribs

(910 g)

1 tablespoon kosher salt, divided
½ teaspoon black pepper, divided
2 tablespoons canola oil
½ medium yellow onion, diced
1 tablespoon garlic, minced
1 teaspoon smoked paprika
1 teaspoon ground cumin
2 whole star anises
½ teaspoon dried harissa
½ teaspoon garlic powder
½ teaspoon onion powder
2 dried bay leaves
1 tablespoon chipotle pepper, diced
1 can Guinness® Stout Beer, plus more for serving
1 qt beef broth

(1 L)

3 oz tomato paste

(85 g)

2 cans black beans, drained and rinsed
For Serving
¼ cup sour cream

(60 g)

¼ cup red onion

(35 g)

4 tablespoons fresh cilantro, chopped
1 jalapeño, sliced
This recipe isn't available to shop.
Unfortunately, not all our recipes can be shopped through Tasty.
Preparation
Cut the short ribs into ½-inch (2.5 cm) pieces. Season with 1 teaspoon salt and ¼ teaspoon pepper.
Heat the canola oil in a large pot over high heat. Add the short ribs and sear for 2–3 minutes, until a golden brown crust forms.
Add 1 teaspoon salt, the onion, garlic, paprika, cumin, star anise, and dried harissa. Reduce the heat to medium-high and cook, stirring for 5 minutes, or until the spices are fragrant.
Add the garlic powder, onion powder, bay leaves, chipotle peppers, and Guinness® Stout. Simmer for 10 minutes, or until the liquid is reduced by half.
Add the beef broth, reduce the heat to low, and cook uncovered for 45–60 minutes, or until the meat is tender and liquid is reduced by one third.
Add the tomato paste, increase the heat to medium, and simmer for 10 minutes, or until the chili has thickened.
Add the black beans, remaining teaspoon of salt, and remaining ¼ teaspoon pepper, and simmer for another 5 minutes until the beans are warmed through.
Remove the bay leaves and star anise pods, then ladle the chili into 4 bowls. Top with sour cream, red onion, cilantro, and sliced jalapeño. Serve with cold glasses of Guinness® Stout.
Enjoy!