Halloween Charbooterie Board
It's a scary spin on a classic charcuterie board and full of tricks and treats. Feast on Frankenstein's blood, cheesy fingers, mummy strawberries, and more! Perfect for a Halloween party or small spooky gathering.
October 18, 2020
Total Time
1 hr 15 min
1 hr 15 min
Prep Time
20 minutes
20 min
Cook Time
30 minutes
30 min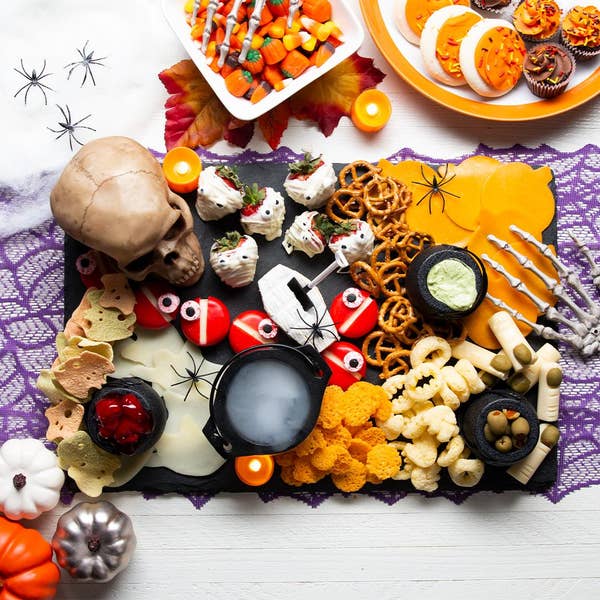 Total Time
1 hr 15 min
1 hr 15 min
Prep Time
20 minutes
20 min
Cook Time
30 minutes
30 min
Ingredients
for 6 servings
Cheese Fingers
4 mozzarella string cheeses, halved crosswise
4 pimiento-stuffed green olives, halved lengthwise
Camembert Casket
1 camembert cheese, 10 ounce (300 G) wedge
Cheese Zombies
6 wax-coated mini cheese wheels
6 large bloody eyeball candies
1 teaspoon marshmallow fluff
Mummy Berries
12 oz white chocolate

(360 g)

, roughly chopped
6 large strawberries
12 googly eye candies
Blood Of Frankenstein Dip
1 cup sour cream

(240 g)

¼ cup lime juice

(60 mL)

2 medium avocados
2 jalapeñoes, seeded and roughly chopped
½ bunch scallions, chopped
½ bunch fresh cilantro, stems removed
2 teaspoons kosher salt
½ teaspoon freshly ground black pepper
4 garlic cloves
Assembly
¼ cup cherry pie filling

(60 g)

¼ cup pimiento-stuffed green olives

(45 g)

8 oz cheddar cheese

(225 g)

, sliced
8 oz sliced mozzarella

(225 g)

, or Provolone cheese
1 ½ oz Halloween-shaped vegetable chips

(50 g)

1 ½ oz Halloween-shaped pretzels

(45 g)

2 oz Halloween-shaped cheddar puffs

(60 g)

2 oz Parmesan crisps

(60 g)

2 tablespoons water
Special Equipment
Casket-shaped cookie cutter
plastic skull
3 plastic cauldrons, mini
Pumpkin-shaped cookie cutter
Ghost-shaped cookie cutter
1 toy shovel
1 medium cast-iron cauldron
Mini orange battery-operated tea light
Plastic skeleton hand
1 dry ice cube
toy spider
Nutrition Info
Calories

1228

Fat

89g

Carbs

67g

Fiber

24g

Sugar

40g

Protein

43g
Estimated values based on one serving size.
Preparation
Make the cheese fingers: On one end of a string cheese half, cut a small piece of cheese to create a nail bed. Carve out 3–4 more small pieces ¼ inch (6 mm) up from the first cut to create knuckle creases. Place an olive half cut-side down at the tip of a string cheese half for a fingernail. Repeat with the remaining string cheese and olive halves.
Make the Camembert casket: Lightly press the casket cutter through the top of the wedge of Camembert cheese. Using a sharp paring knife, cut away the excess cheese from the outside of the cutter and reserve for another use. Remove the casket from the cutter.
Make the cheese zombies: Unwrap the wax seal from around a mini cheese wheel and slightly open up the remaining wax. Dab a bit marshmallow fluff on the back of a large bloody eyeball candy, then press onto one side of the wax seal. Repeat with the remaining cheese wheels and eyeball candies.
Make the mummy berries: Dip the strawberries in the melted white chocolate, then place on a sheet of parchment paper and let set for 2 minutes. Place 2 googly eye candies on each strawberry, then let the chocolate set completely, about 3 minutes.
Transfer the remaining melted chocolate to a piping bag and cut a small hole at the tip. Starting right below the eyes, drizzle the chocolate over the strawberries in a zigzag pattern, first from left to right, then right to left, to make a mummy effect.
Make the blood of Frankenstein dip: In a food processor or blender, combine the sour cream, lime juice, avocados, jalapeños, scallions, cilantro, salt, pepper, and garlic. Process until well combined, 2–4 minutes. Transfer to a mini cauldron for serving.
Add the cherry pie filling and pimiento-stuffed green olives to mini cauldrons.
Make the cheese cutouts: Using a pumpkin cookie cutter, cut out shapes from the sliced cheddar cheese. Use a ghost cookie cutter to cut out shapes from the sliced mozzarella cheese.
Assemble the board: Place the plastic skull on a large board or flat platter. Set the mini cauldrons with the blood of Frankenstien dip, cherry pie filling, and green olives on the board. Arrange the pumpkin and ghost cheese cut-outs, cheese fingers, Camembert casket (with the toy shovel, if using), cheese zombies, and mummy berries on the board. Fill in empty spaces with the Halloween-shaped vegetable chips, pretzels, cheddar puffs, and Parmesan crisps. Decorate the board with the cast iron cauldron, mini orange tea lights, skeleton hand, and plastic spiders. Just before serving, use tongs to carefully add the dry ice cube to the cast iron cauldron, then fill with the water.
Enjoy!
Hate losing that perfect recipe? Save and organize recipes easily on the Tasty app. Download now.