Hash Brown Mini Quiches
November 04, 2021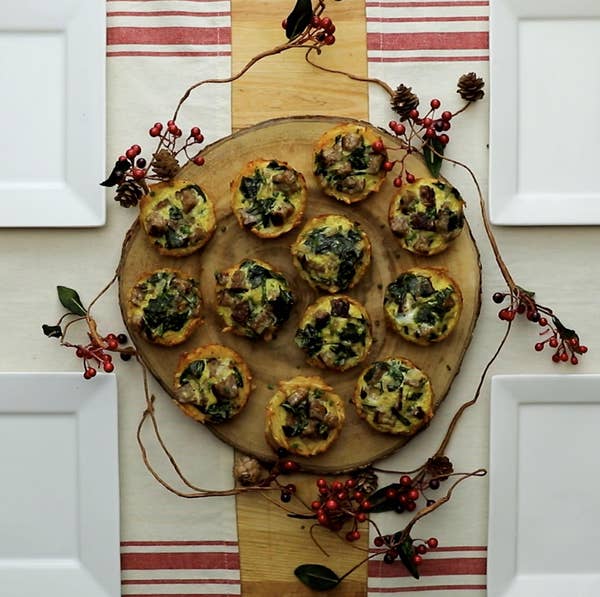 Ingredients
for 12 servings
Hash Brown Cups
2 eggs
¾ cup shredded cheddar cheese

(75 g)

2 ½ teaspoons kosher salt
1 teaspoon ground pepper
1 bag shredded hashbrowns
Filling
4 Kroger Traditional Pork Sausage Pattys
½ yellow onion, diced
4 eggs
2 tablespoons heavy cream
1 ¼ teaspoons kosher salt
Large handful baby spinach, chopped
fresh chive, for garnish, chopped
This recipe isn't available to shop.
Unfortunately, not all our recipes can be shopped through Tasty.
Preparation
Preheat oven to 400ºF (375ºF for convection ovens). Coat a muffin tin with nonstick spray.
Hash brown cups: Whisk together eggs, cheddar cheese, kosher salt, and ground pepper in a bowl. Fold in shredded hash browns.
Press approximately a ¼ cup of potatoes into each muffin cup, pressing down in the middle and going up the sides of the space to form a cup shape.
Bake cups for 10–15 minutes, or until edges of potatoes are turning golden brown. Remove from oven.
Filling: Arrange Kroger Traditional Pork Sausage in a cold skillet. Turn heat to medium-low. Cook until browned on the first side, then flip and cover pan with a lid. Continue cooking sausage until no longer pink in the middle. Remove sausage (leaving fat behind in the pan) and drain on paper towels. Roughly chop sausage into small pieces and place in a bowl.
In the sausage fat, sauté diced onion until softened and translucent, about 5 minutes. Place onions in the bowl with the sausage.
In the same bowl, whisk in the eggs, heavy cream, and kosher salt. Fold in baby spinach.
Fill each hash brown cup with filling. Cover muffin tin with aluminum foil.
Bake for 14–16 minutes or until egg is cooked through. Remove from oven.
Remove quiches from muffin tin. Serve with chopped chives for garnish!