Hibiscus Flower Tacos
This hibiscus flower taco "meat" is a game changer for anyone looking for new meat alternatives. The texture is tender and chewy, similar to meat, and it takes on any flavor that you decide to pair it with. Get creative and have fun!
October 06, 2019
Total Time
2 hr 20 min
2 hr 20 min
Cook Time
20 minutes
20 min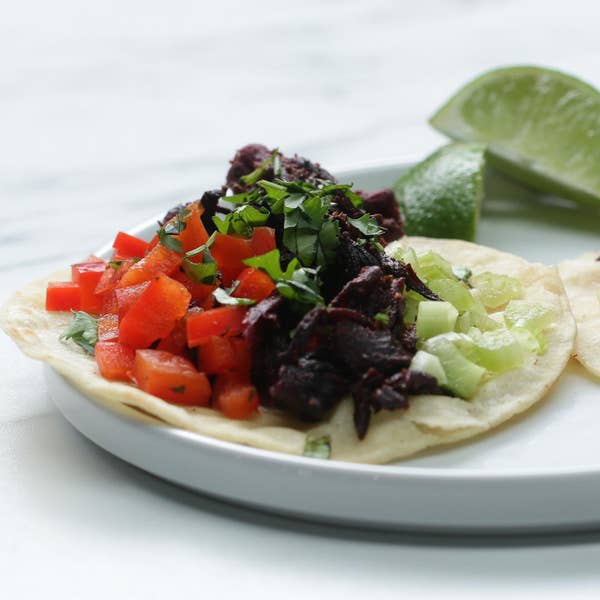 Total Time
2 hr 20 min
2 hr 20 min
Cook Time
20 minutes
20 min
Ingredients
for 6 tacos
2 cups dried hibiscus flowers

(140 g)

4 cups water

(960 mL)

2 tablespoons olive oil
½ medium red onion, diced
3 cloves garlic, minced
1 teaspoon onion powder
1 teaspoon garlic powder
½ teaspoon black pepper
1 teaspoon smoked paprika
½ teaspoon ground cumin
1 teaspoon dried oregano
1 teaspoon kosher salt
½ teaspoon red pepper flakes
tortilla, for serving
topping of your choice, for serving
Nutrition Info
Calories

49

Fat

4g

Carbs

2g

Fiber

8g

Sugar

0g

Protein

0g
Estimated values based on one serving size.
Preparation
Rinse the dried hibiscus flowers under running water for 2–3 minutes, until the water turns from deep magenta to light pink.
In a medium saucepan, bring the water to a boil. Boil the drained hibiscus for 10 minutes, until tender. Remove the pot from the heat, cover, and let stand for 2 hours.
Drain the hibiscus well. Reserve the water for hibiscus tea or to use smoothies, or discard.
Heat the olive oil in a large skillet over medium heat. When the oil is shimmering, add the red onion and sauté for 2 minutes, until translucent. Add the garlic and sauté for 2 minutes more, until fragrant. Add the hibiscus, onion powder, garlic powder, black pepper, paprika, cumin, dried oregano, salt, and red pepper flakes. Stir until the flavors have melded, about 5 minutes.
Serve the hibiscus "meat" in tortillas with your toppings of choice.
Enjoy!
All your favorite recipes, stored in one place. Download the Tasty app and never lose a recipe again.