83% would make again
Holiday Macaron Tower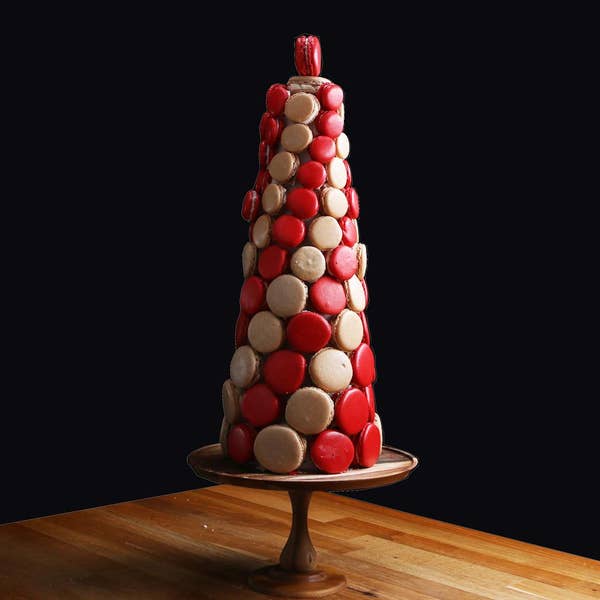 Inspired by thegunnysack.com
Ingredients
for 40 macarons
Macaron Batter
3 ½ cups powdered sugar

(420 g)

, sifted
2 ½ cups superfine almond flour

(240 g)

, sifted
8 egg whites, cold
1 cup granulated sugar

(200 g)
Gingerbread Flavor
½ teaspoon ground cloves
½ teaspoon ground ginger
½ teaspoon ground nutmeg
½ teaspoon ground cinnamon
½ teaspoon ground allspice
Red Velvet Flavor
½ tablespoon cocoa powder
1 teaspoon red gel food coloring
Macaron Filling
1 cup unsalted butter

(225 g)

, room temperature
1 cup shortening

(225 g)

¼ teaspoon kosher salt
½ teaspoon ground cloves
½ teaspoon ground cinnamon
½ teaspoon ground nutmeg
½ teaspoon vanilla extract
4 tablespoons eggnog
8 cups powdered sugar

(960 g)

, sifted
Special Equipment
1 styrofoam cone, 5 in by 15 in (13 cm by 38 cm)
toothpick
Nutrition Info
Estimated values based on one serving size.
Preparation
Make the macaron batter: In a large bowl, whisk together the powdered sugar and almond meal. Set aside.
In a separate large bowl, beat the egg whites with an electric hand mixer until the egg whites stay stuck to the sides of the bowl when tilted.
Add the granulated sugar and beat until soft peaks form.
Gradually add the dry ingredients to the whipped egg whites and fold with a rubber spatula until just combined.
Transfer half of the batter to another bowl.
Make the gingerbread flavor: To one bowl, add the cloves, ginger, nutmeg, cinnamon, and allspice, and gently fold to combine.
Make the red velvet flavor: To the other bowl, add the cocoa powder and red food coloring, and gently fold to combine.
Transfer the batters to 2 separate piping bags or zip-top bags.
Pipe a bit of batter in each of the 4 corners of the baking sheet, then lay a piece of parchment paper on top and press against the batter dots to seal. Pipe the batter onto the baking sheet in ¾-inch (2 cm) circles, spacing about ½ inches (1 ¼ cm) apart. Gently tap the baking sheet against the counter to release any air bubbles.
Let the macarons rest at room temperature for 1 hour, until a skin forms on the surface.
Preheat the oven to 300˚F (150˚C).
Bake the macarons for 20 minutes.
Make the filling: In a large bowl, cream together the butter and shortening until smooth.
Add the salt, cloves, cinnamon, nutmeg, vanilla, and eggnog, and beat to incorporate. Add the powdered sugar, a bit at a time, and beat until well combined and the filling is smooth.
Transfer the eggnog filling to a piping bag or zip-top bag.
Pipe the filling onto a macaron, then sandwich with another macaron. Repeat with the remaining ingredients.
Let the macarons rest in the refrigerator for at least 6 hours, or overnight.
To assemble the tower, insert a toothpick into the styrofoam cone, leaving ½-inch (1 ¼ cm) exposed. Gently press a macaron onto the toothpick. Repeat around the rest of the cone with the remaining macarons.
Enjoy!