Homemade Big Massive Burger
This homemade big massive burger recipe is perfect for anyone looking to indulge in a delicious and satisfying meal. With juicy beef, melted cheese, and all the fixings, this burger is sure to hit the spot.
May 05, 2023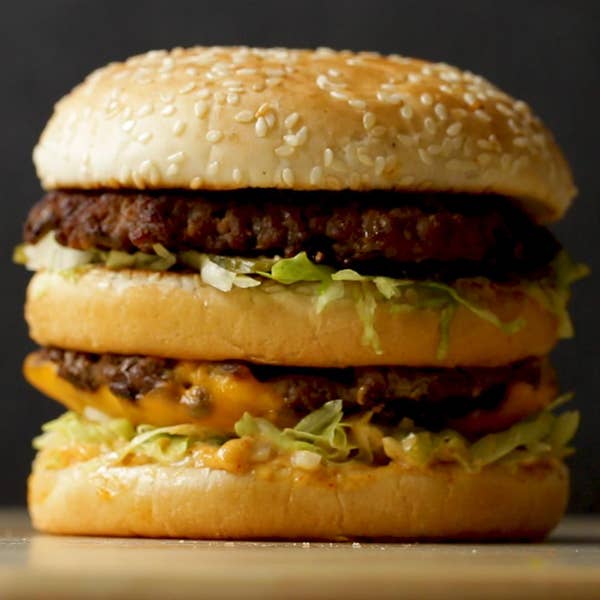 Ingredients
for 1 burger
½ lb ground beef

(225 g)

1 pinch salt
1 pinch pepper
1 ½ burger buns
1 slice american cheese, sliced
Burger Sauce
½ cup mayonnaise

(120 g)

1 gherkin, diced
1 teaspoon white vinegar
1 teaspoon yellow mustard
1 teaspoon garlic powder
1 teaspoon onion powder
1 teaspoon smoked paprika
½ teaspoon white pepper
Salads
onion, finely diced
lettuce, finely shredded
1 gherkin, thinly sliced
Preparation
Roll half of the beef mince into a ball and pat it down until a finger thick, bigger than palm size patty. Repeat with remaining beef.
Fry both patties with salt and pepper for 2 and a half minutes a side. Add 1 cheese single to one of the patties.
Toast the burger buns on a dry pan on medium heat until one of the sides is golden brown.
Mix all the sauce ingredients and set aside.
Time to build this bad boy! Spread burger sauce on a bun, sprinkle diced onion, shredded lettuce, place the patty with cheese, place another slice of bun.
Then more sauce, more onion, shredded lettuce, gherkin slices, another patty, and the last slice of bun!
Dig in and get lovin' it!
Nutrition Calories: 1774 Fat: 131 grams Carbs: 69 grams Fiber: 7 grams Sugars: 17 grams Protein: 74 grams
Enjoy!