Homemade Doritos Locos Tacos
Have a craving for your favorite fast food taco but want to try it at home? This homemade Doritos Locos Taco recipe is perfect for you. Ground Doritos make a perfect cheesy taco shell, while the well-seasoned meat mixture closely replicates the original. Serve this up for a few guests and see if they think homemade is better than fast food.
September 28, 2020
Total Time
40 minutes
40 min
Prep Time
10 minutes
10 min
Cook Time
30 minutes
30 min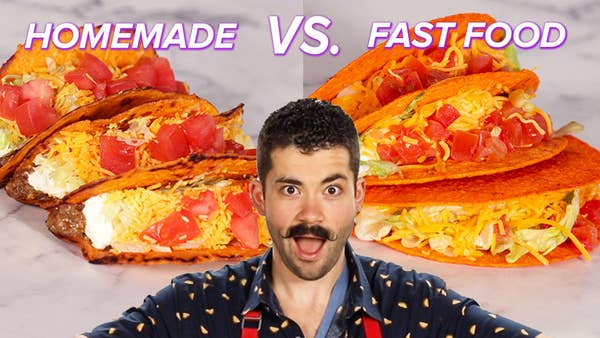 Total Time
40 minutes
40 min
Prep Time
10 minutes
10 min
Cook Time
30 minutes
30 min
Ingredients
for 12 tacos
Taco Shells
2 cups Doritos Nacho Cheese-Flavored Tortilla Chips

(250 g)

1 cup all purpose flour

(125 g)

½ cup masa harina

(120 g)

2 tablespoons nacho cheese powder, plus more for dusting
½ teaspoon kosher salt
1 teaspoon baking powder
½ cup vegetable shortening

(120 mL)

, melted
¾ cup water

(180 mL)

nonstick cooking spray, for greasing
Filling
½ medium yellow onion
3 cloves garlic
olive oil, to taste
1 lb ground beef

(450 g)

2 teaspoons ground cumin
½ teaspoon ground coriander
¼ teaspoon cayenne
1 teaspoon garlic powder
1 tablespoon granulated onion
1 teaspoon paprika
1 teaspoon chili powder
1 teaspoon ground beef bouillon
½ teaspoon msg
¼ teaspoon sugar
kosher salt, to taste
2 cups water

(240 mL)

, divided
2 tablespoons cornstarch
Assembly
½ cup sour cream

(120 g)

½ cup iceberg lettuce

(50 g)

, shredded
½ cup shredded cheddar cheese

(120 mL)

1 tomato, diced
Preparation
Make the taco shells: Add the Doritos, flour, masa harina, nacho cheese powder, salt, and baking powder to a food processor. Process until the Doritos are broken down into fine crumbs. With the processor running, slowly pour in the melted lard and water. Continue processing until the dough comes together in a ball.
Transfer the dough to a piece of plastic wrap. Shape into a disc, wrap tightly, then refrigerate for 30 minutes.
Preheat the oven to 400°F (200°C). Grease 2–3 baking sheets with nonstick spray.
Working with one dough ball at a time (keep the rest covered so they don't dry out), place between 2 sheets of parchment paper or plastic wrap. Use a heavy skillet to press down evenly into a thin tortilla.
Transfer the tortilla to the griddle and cook for 1–2 minutes per side, until lightly browned.
Transfer the cooked tortilla to a large bowl lined with a kitchen towel and cover to keep warm while you cook the rest of the tortillas. The steam will help keep them moist and soft.
Arrange the tortillas in a single layer on the prepared baking sheets. Bake for 3 minutes, until crisp. While still hot, carefully fold the tortillas into taco holders to set the shell shape. Dust with more nacho cheese powder. Let cool while you make the filling.
Add the onion and garlic to a food processor and drizzle with oil. Pulse until finely minced, scraping down the sides as needed.
Transfer the onion mixture to a large pan and sweat over medium-low heat until soft and translucent, 5– 7 minutes.
Add the ground beef, cumin, coriander, cayenne, garlic powder, granulated onion, paprika, chili powder, beef bouillon, MSG, sugar, and salt. Stir well to combine. Increase the heat to high and use a masher or whisk to break the meat into small pieces. Cook until the beef is golden brown and caramelized, about 5 minutes.
Deglaze the pan with ½ cup of water, stirring to scrape up any browned bits. 12. Continue cooking for about 10 minutes, until the liquid reduces.
In a liquid measuring cup or medium bowl, whisk together the cornstarch and remaining 1½ cups water. Add to the beef mixture and bring to a simmer. Cook until the mixture thickens, about 5 minutes.
Use an immersion blender to purée about a quarter of the meat in the pan, then stir everything together.
To assemble, spoon the meat mixture into the taco shells. Top with sour cream, shredded lettuce, cheese, and diced tomatoes.
Serve immediately.
Enjoy!
Busy? Plan your meals for the week using our exclusive meal planner tool in the Tasty app. Download now and get organized.