Honey Baked Ham By Alvin
November 04, 2021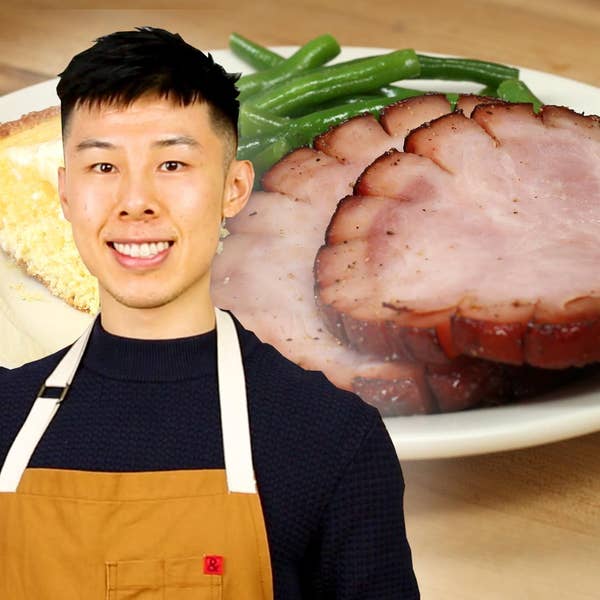 Ingredients
for 8 servings
1 pre-cooked/smoked boneless ham
2 tablespoons McCormick® black pepper
1 teaspoon kosher salt
2 tablespoons ground nutmeg
1 orange, quartered and sliced into ¼-inch-thick pieces
¼ cup whole clove

(10 g)

2 cups orange juice

(480 mL)

8 cloves garlic, crushed
Glaze
½ cup honey

(165 g)

1 ½ cups brown sugar

(300 g)

1 teaspoon kosher salt
½ teaspoon McCormick Black Pepper
This recipe isn't available to shop.
Unfortunately, not all our recipes can be shopped through Tasty.
Preparation
Place the ham on a cutting board, cut-side down, and score the surface in a crosshatch pattern about 1 inch wide and ½ inch deep.
In a small bowl, combine the McCormick® Black Pepper, salt, and nutmeg. Rub the spice mixture all over the ham.
Use the cloves to pierce the orange slices into each crosshatch section of the ham. Pierce the ham with any remaining cloves and reserve any remaining orange slices.
Place the ham in a large bowl and cover with orange juice and garlic cloves. Cover the bowl and marinate in the refrigerator for at least 2 hours, or overnight.
Preheat the oven to 400°F (200°C).
Place the ham cut-side down in a roasting pan and pour the marinade around the ham to reach a depth of 2 inches. Cover with foil.
Bake the ham for 90 minutes, or until an instant read thermometer inserted into the thickest part of the ham reads 160°F.
Meanwhile, make the glaze. In a small saucepan, combine the honey and brown sugar and let foam and thicken into a syrup, 6–8 minutes. Whisk in the salt and McCormick Black Pepper.
Remove the ham from the oven. Place the ham on a wire rack on top of an aluminum-foil covered sheet tray. Remove the orange slices and cloves.
Reduce the oven temperature to 350°F (180°C). Pour the glaze over the ham and return to the oven to bake uncovered for 45–60 minutes, until the top is crispy and brown.
Remove the ham from the oven and serve warm with your favorite holiday sides.
Enjoy!