Honey Roasted BBQ Pork (Char Siu)
Savor the sweet and savory flavors of this Honey Roasted BBQ Pork Char Siu, a Chinese classic that'll have your taste buds dancing. With its sticky, caramelized glaze and tender meat, this dish is perfect for a weeknight dinner or a weekend feast.
May 04, 2023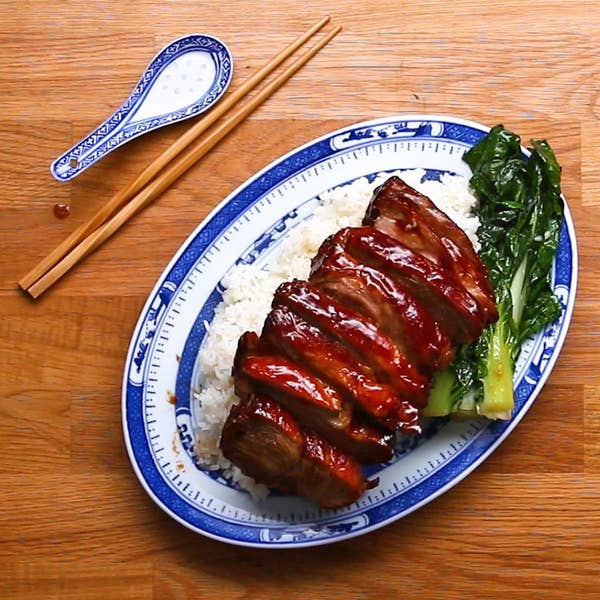 Ingredients
for 2 servings
2 tablespoons soy sauce
2 tablespoons rice wine, also known as shaoxing
1 tablespoon sesame oil
2 teaspoons ground five spice
1 tablespoon salt
5 cloves garlic, crushed
1 piece fresh ginger, sliced 2 in (5 cm)
2 tablespoons bean curd
¼ cup bean curd liquid

(60 mL)

¼ cup hoisin sauce

(65 g)

½ cup honey

(170 g)

2 lb boneless pork shoulder

(905 g)

1 cup white rice

(230 g)

, cooked, for serving
2 large bok choys, steamed, for serving
Preparation
In a large bowl, combine the soy sauce, Shaoxing, sesame oil, five spice, salt, garlic, ginger, bean curd, bean curd liquid, hoisin, and honey.
Place the pork into the marinate, turn to coat completely, and cover with cling wrap.
Marinate for at least 3 hours, or preferably overnight.
Preheat the oven to 300°F (150°C). Line a baking sheet with parchment paper and set a wire rack on top.
Transfer the pork shoulder from the marinade to the wire rack.
Bake for 1 hour and 15 minutes until the edges are slightly charred.
Pour the marinade through a strainer into a medium pot.
Heat the marinade on medium heat until it reduces to ¼ of its original volume, about 10 minutes.
Glaze the pork with the reduced marinade every 15 minutes.
When the pork is done, slice and serve with white rice and bok choy.
Enjoy!
Cook smarter, not harder. Use our AI chef Botatouille on the Tasty app. Download now.